The Mekong - Japan Business Cooperation Forum
The Mekong - Japan Business Cooperation Forum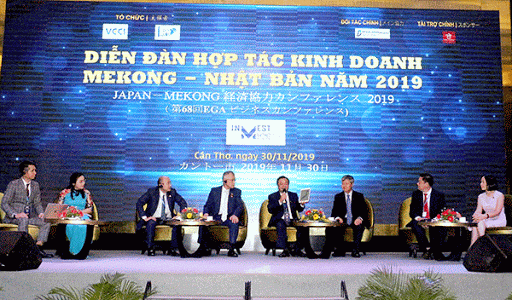 On November 30th, Within the framework of the 5th Japan-Vietnam Cultural and Trading Exchange Program, Vietnam Chamber of Commerce and Industry (VCCI) and the Japan External Trade Organization (JETRO) in Ho Chi Minh City cooperated with the Club of Investment and Tourism Promotion Centers in 13 provinces and cities in the Mekong Delta to hold the Mekong - Japan Business Cooperation Forum. More than 400 delegates from the central government, localities of the two countries together with economic experts, businesses of Vietnam and Japan.
At the forum, the delegates focus on the discussion as follows:
Japanese investment trend in Vietnam

Potentials and opportunities for investment, trading and tourism cooperation in the Mekong delta region.

Japanese enterprise requirements when coming to the Mekong delta region
Besides, the delegates also discussed:
Cooperation in food and provisions production.

Cooperation in information technology and communication.

Promoting agricultural products to Japan.

Cooperation in tourism development.
Mr Le Quang Manh - Chairman of Can Tho City People's Committee, said that Japan has always been the leading investor of Vietnam, currently has over 4,300 projects with the registered number of more than the US $ 59 billion, including many important projects. However, the investment scale of Japanese enterprises in the Mekong Delta and Can Tho is still low compared to the potential and available advantages of this area. At this time, when completing the key infrastructure of the region and the innovation of localities, it will attract more Japanese investors to the Mekong Delta.
"Japanese investors also set up an office, which provides all information and knot for Japanese investors. At the same time, it also receives obstacles, difficulties and inquiries of Japanese investor to invest in Can Tho city. We also constructed an industrial zone specifically for Japan in Hung Phu with an area of 124 ha, " said Mr Le Quang Manh.
Mr Vu Tien Loc - Chairman of Vietnam Chamber of Commerce and Industry, said that the Mekong Delta has the highest PCI index in Vietnam, and this area is also a place to export many key products of our country. Besides, Mekong Delta has plenty of potentials for development, including Japanese investors.
Mr Vu Tien Loc also stated that besides the advantages, Mekong Delta has faced with challenges of climate change in recent years, so the sustainable development of this area is also the sustainable development of Vietnamese economy.
According to Mr Vu Tien Loc, the key of development is to strengthen cooperation in training human resources of two nations, innovation and creativity. Therefore, in the upcoming time, it is essential to enhance the quality of the regional human resource, in which the Vietnam- Japan business community has to cooperate and assist in training human resource.
"Japanese technology, business model, business method are suitable for our development strategy for Mekong delta - a strategy towards a smart and friendly environmental economy, ensuring sustainable development. I think Mekong delta plays an important role in Vietnam and Japan cooperation strategy." Mr Vu Tien Loc emphasized.
In this time, Can Tho city also award investment certificate of processing, producing spice and materials project for a Japanese enterprise with registered capital of 8 billion USD