What is IDE? The common Integrated Development Environments
For developers, programmers, IDE is a popular term but those who don't comprehend IT. So what are IDE and its advantages?
What is IDE? The common Integrated Development Environments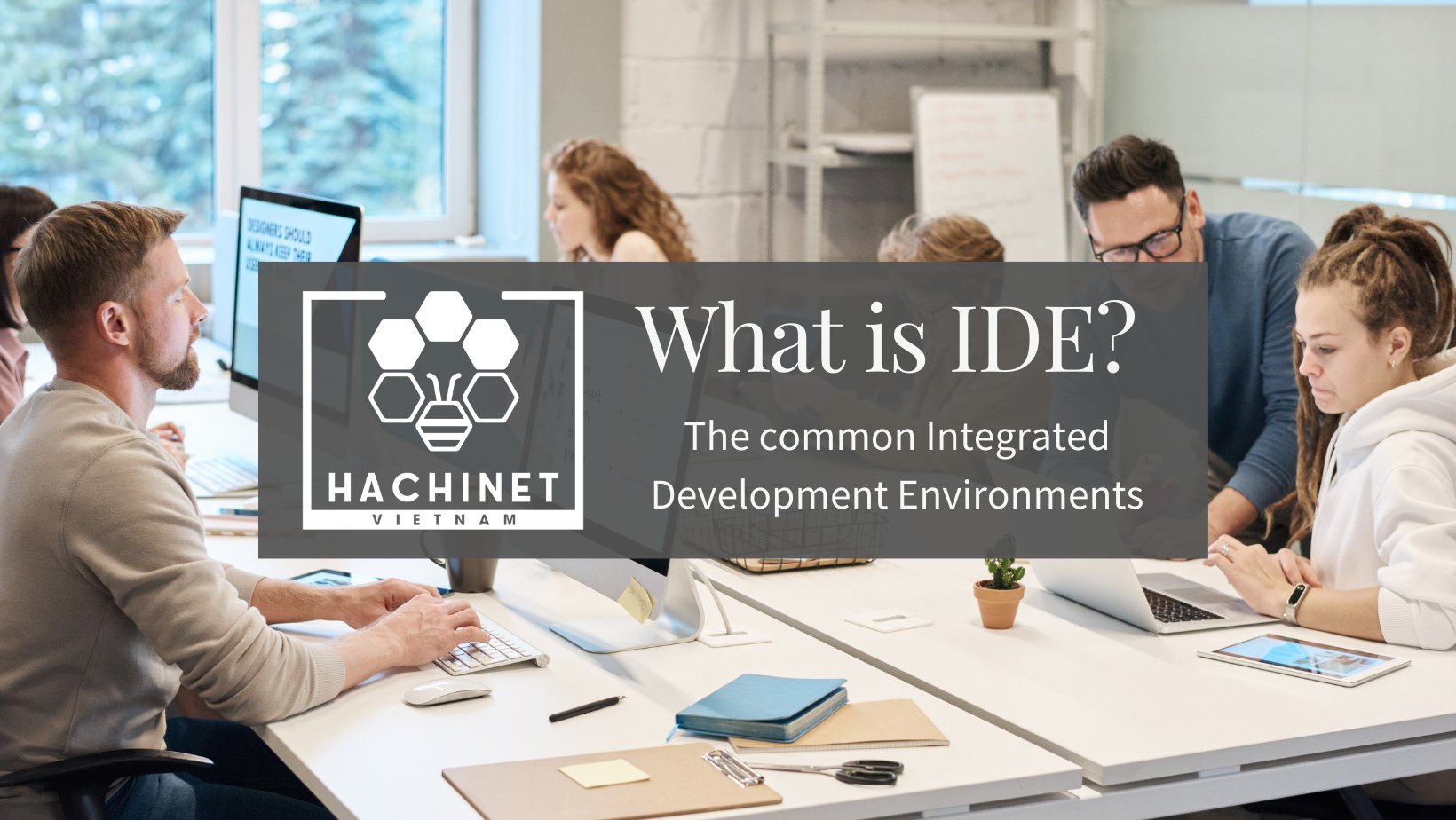 For developers, programmers, IDE is a popular definition but those who don't comprehend IT. So what are IDE and its advantages?
1.
The most accurate answer for the question "What is IDE?"
IDE (Integrated Development Environment) is software providing the most comprehensive facilities for computer programmers in software development.
To develop software, developers need various tools, programs, and stakeholders under the working process such as text editors, building, testing software codes, etc.
And to merge these parts to work on one platform, it is necessary to create an IDE - a common working environment, integrating all related tools and components into supporting the working process.
If you don't use an IDE in the working process, developers need to work, research, and develop the components separately. IDE creates a particular environment, a tool to reconcile the rest of the components for deployment, to properly manage tools within a single and common application framework.
From this concept, it can be seen that IDE helps simplify the management process and optimize these cycles. Simultaneously, it will be easier to manage the system on the same platform. Overall, this integrated toolkit is designed to simplify the software development process as well as assist in minimizing typographical errors in coding.
An IDE usually includes at least one source code text editor, automation tools, and a debugger. Other IDEs like Netbeans and Eclipse contain interpreters, compilers, interpreters, or both, while others like SharpDevelop and Lazarus don't.
There is no difference or boundary between IDE and other software. IDE usually contains source code text editors, automation tools, and debuggers. It'll be accessed via a GUI - a graphical user interface. Users will write or edit the source code in the code editor.
From there, the compiler compiles the source code into a language that can be read and executed on a computer. In addition, it also supports debugging and testing software as well as solving problems that occur.
Here are some IDE's benefits to those programs:
- Code editor: a feature designed for writing and editing source code. It is distinguished from a more advanced level of writing editor and code editor.
- Compiler: converts source code from human reading and writing into computer manipulation.
- Debugger: debugging occurs in application programs.
- Build automation tools: automate common developer tools.
Another function is to contain programming, object, and data modeling features, along with unit testing, source code libraries, and finally building automated tooling systems. automation.
The IDE toolbar is like a word processor toolbar. This toolbar also supports setting, organizing based on colors, based on source code format of error messages, as well as other smart code completions. Through this interface, the programmer can manage the IDE, edit the code in it, or control the content.
Several IDEs are open-source while some can work on the closed-source. In general, an IDE can be a standalone application, but it can also be a "bundle" of larger applications.
2. Integrated Development Environment – a multi-functional app
2.1. I
DE's functions
IDE is known as a multi-functional app.
- Ability to highlight syntax: IDE's editor provides syntax highlighting, showing both structures, language keywords as well as syntax errors clearly and intuitively.
- Code completion: an important feature that accelerates programming, and also known as smart code completion.
- Automated refactoring: the upgraded ide provides support for automatic refactoring.
- Version control resides interactively with the source repository.
- Debugging: IDE is used for debugging, using the built-in debugger with support for setting breakpoints during use through steps or visualization.
- Code search: use the user interface to search for codes and interfaces based on natural language.
- Intuitive programming: automatically set up, the IDE provides intuitive programming for new application users to make programming moves, building blocks, or code buttons to save profiles and structures later. compile and interpret.
- Multi-language support: ide supports multi-language like C, Emacs Lisp, MyEclipse, PHP, etc. based on file extension settings.
- Easily suitable for many different operating systems such as Mac, Linux, or Windows, etc.
2.2. IDE brings benefits for programmers
In particular, an IDE can actively support MDD – model-driven development with a format to write and deploy software quickly and efficiently. A developer or programmer will work with an IDE with the right code model.
This integrated development environment will test and debug the code in the direction that the model presents on the basis of a high degree of automation. Once the build is successful and testing is done correctly, it will be further deployed, tested further on the IDE or another tool.
In general, creating an integrated work environment can be very beneficial for program developers. These benefits not only revolve around ease of implementation, control, or debugging but are much more diverse.
Specifically, when using ide programmers will receive the following benefits:
- Improve productivity: creating a suitable working environment makes programmers' working process easier and more convenient, thereby significantly improving their labor productivity. Just imagine, without IDE, developers would spend a lot of time deciding which tool to use to perform tasks, and how to configure that tool. Besides, many components, especially new tools, always take more time to learn usage.
- From all tools, Ide is designed under a common user interface, thereby standardizing the development process with essential software development features in the user interface.
- IDE creates a uniform environment among tools to meet developer needs such as version control or debugging tools, etc.
- IDE also helps give suggestions, and complete code statements to programmers quickly. Simultaneously, it also automatically checks for existing errors and gives notification of the error location to the programmer.
- Besides, the refactoring feature of IDE makes it easy for programmers to make changes to the project code easily.
- Participating in management support for programmers is easier.
- Easily suitable for many different operating systems such as Mac, Linux, or Windows. In addition, it also allows adding new features according to the needs of programmers.
- On mobile or desktop platforms, IDE makes the development of software and game applications more convenient and easier.
- Standardization: the Ide interface standardizes the development process to help programmers work together more smoothly, and the deployment speed is also faster.
Overall, IDE brings various benefits for programmers which is one of the reasons why it's one of the most popular apps nowadays.
3. Popular IDEs you should know
Various IDEs cater to the various ways that developers work and the different types of generated code. Some IDEs are designed to work with a particular language, cloud-based IDEs, IDEs customized for developing mobile applications or for HTML, and IDEs specifically for Apple development or Microsoft development.
3.1. Multilingual IDE
The multilingual IDE supports many programming languages ​​such as:
- Eclipse: Supports C, C++, Python, Perl, PHP, Java, Ruby, etc. This free and open-source editor is the application model for a variety of development frameworks. It started as a Java development environment and extended through plugins.
- Netbeans: supports programming languages ​​such as Java, JavaScript, PHP, Python, Ruby, C, C++, etc., free and open source. Thereby providing modules with defined functions. clearly.
- Komodo: supports programming languages ​​such as Perl, Python, Tcl, PHP, Ruby, Javascript, etc. This is considered a tool to help businesses have a higher value.
- Aptana: via a plugin that supports programming languages ​​like HTML, CSS, JavaScript, AJAX, and more. These are popular choices on web applications.
- Geany: supports programming languages ​​such as C, Java, PHP, HTML, Python, Perl, Pascal, etc., with higher customization capabilities than plugins.
3.2. IDE mobile development and HTML IDE
As IDEs specifically for mobile devices including titanium mobile, phone gap, by Appcelerator. Also, most of the IDEs are multilingual ones that have other mobile development app plugins that also have these support functions.
For instance, Eclipse, etc.
Currently, the most popular IDEs are HTML application development ideologies, which help automate website development.
For example, homesite, dreamweaver, etc.
3.3. Cloud-based IDE
As a new trend recently, cloud-based IDE has become more popular. The capabilities of these web-based IDE have been increasing rapidly with high competition. A cloud IDE gives developers access to code anytime, anywhere based on the platforms that support that IDE.
For example, Cloud9 Ide supports over 40 programming languages and develops as a service.
3.4. IDE for Microsoft and Apple
The IDEs for Microsoft or Apple serves the programmers or workers who work in this big enterprise - Microsoft and Apple.
- Visual Studio: Supports specific programming languages ​​that are Visual C++, VB.NET, C#, F#, and others. Visual Studio is an IDE of the Microsoft company, it is designed to be used for applications running on Microsoft platforms.
- MonoDevelop: Supports C/C++, Visual Basic, C#, and other .Net programming languages.
- Xcode: Supports the system of 2 programming languages ​​that are Objective-C and Swift. This language works as well as a Cocoa or Cocoa Touch API. Xcode is mainly used to build and develop system applications on IOs, Mac including iPhone simulators, iPad, and GUI generators.
- Espresso: Supports programming languages ​​that are HTML, CSS, XML, JavaScript, and PHP. Use for Mac programmers.
- Coda: Supports programming languages ​​that are PHP, JavaScript, CSS, HTML, AppleScript, and Cocoa API.
3.5. IDE for particular languages
IDEs also support single-language developers, such as CodeLite and C-Free for C/C++, Jikes and Jcreator for Java, Idle for Python, and RubyMine for Ruby/Rails.
4. Top 5 best IDE for programmers
Thanks to a variety of functions, IDE can apply to many different software. Here are ten prominent software.
4.1. Microsoft Visual Studio
Microsoft Visual Studio is known as a specialized software commonly used in web application development or computer programs as well as mobile applications, etc.
The software provides support for code completion and refactoring. Microsoft Visual Studio is often used in Android applications, in Windows, or in iOS to make it work smoothly.
Microsoft Visual Studio supports more than 36 different languages with a relatively diverse graphical user interface such as Windows API, etc.
4.2. Xcode
As a product that runs on Apple's IDE and Mac operating system, it's mainly used to build iOS and OS X. With the outstanding feature, Xcode is relatively fully integrated with text editors as well as the necessary tools.
When combined with Swift, this programming language provides a more complete and enjoyable user experience.
4.3. NetBeans
This is an open-source and quality IDE appreciated by many programmers in the Java system. Netbeans is commonly used in PC, web, and mobile applications.
NetBeans is also one of the IDEs that is officially applied with Java 8, the latest versions of this IDE all bring the most effective and optimal improvements. Programmers can develop or customize this software by highlighting Java codes.
4.4. IntelliJ IDEA
IntelliJ IDEA provides intelligent features that support the completion of a series of data sources. It also supports the handling of data transmission and positive effects at the same time.
Comes with keyboard shortcuts, IntelliJ IDEA makes navigating codes and plugins more convenient.
4.5. Eclipse
This IDE is famous for programming languages like Java, C, PHP, or C++. Eclipse also brings convenience to tools, content as well as with many different vendors.
The highlight that Eclipse brings is that it is an operating system that can run on many different application platforms from open operating systems like windows to closed operating systems like Linux.
Overall, IDE is an integrated development environment that brings a lot of benefits to users. Hopefully, this article'll help you understand IDE and provide useful information.
We, "Hachinet Software", are Vietnam-based software services with dedicated, dynamic, enthusiastic teams who always have made efforts to please customers' and partners' satisfaction. We specialize in the followings:
Framework (ASP, MVC, AngularJS, Angular6, Node JS, Vue JS)
Mobile application: IOS (Swift, Object C), Android (Kotlin, Android)
System applications (Cobol, ERP, etc.),
New Technology (Blockchain, etc.).
If you are considering offshore development, please feel free to contact us.
Here is our contact information.
Account Manager: Quan (Japanese/English available)
Phone number: (+84) 2462 900 388
Email: contact@hachinet.com