Edge Computing - introductions, benefits operations and applications
Edge Computing - introductions, benefits operations and applications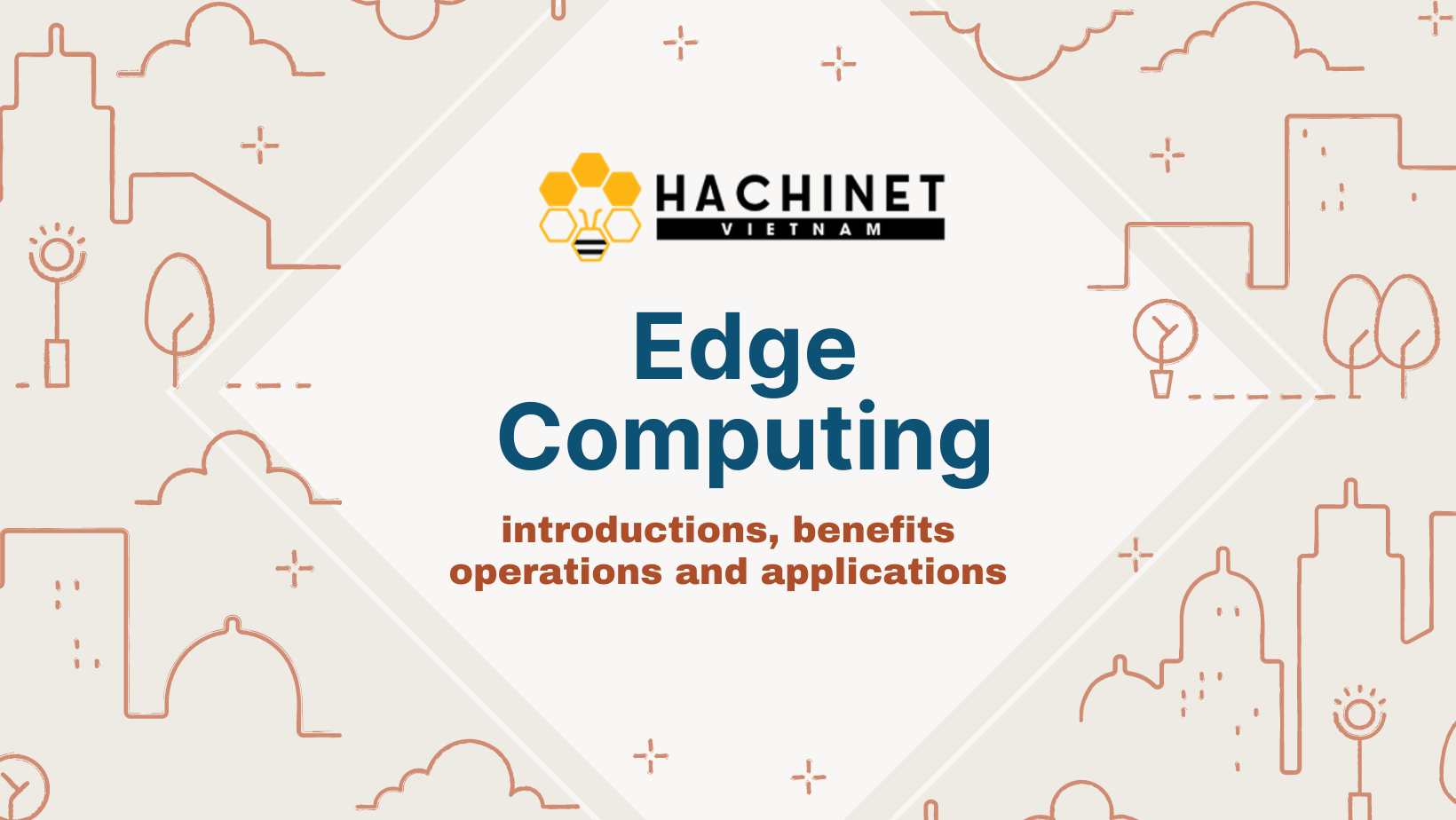 Several big technology companies like Amazon, Microsoft, or Google are entrusted with personal information for management. Those data can be mail, images, etc. In the IoT (Internet of Things) industry, currently, those companies manage our data and other things such as television, refrigerators, air conditioners, and cars.
So how is this information related to Edge Computing? Hachinet will explain what Edge Computing is.
The prediction of more than 30 billion IoT devices is deployed globally in 2020. The amount of data stored in the cloud is hard to imagine. Not to mention the processing power needed to derive any tangible value from it instantly.
Everyone knows Cloud Computing, which is sent to a large Data Center for processing, then returns the results at the users' terminal.
In 2018, we were in Cloud Computing's era, where data was processed in the Data Centers, not in our devices. We have used many cloud computing services such as iCloud of Apple, Google Drive of Google, Dropbox, etc.
There is no surprise that many business owners increasingly improve performance and minimize their IoT products' delivery prices. One of the ways to do that is by processing the data outside the central cloud or at its network edge.
So, if you plan to build an IoT app for your business or optimize your products, Edge Computing is the perfect and safe choice.
1. What is Edge Computing?
---
Edge computing is the optimal cloud computing system method by processing data at the network's edge, closest to the data source.
As the name implies, we're talking about the network's edge, where the Internet ends, and all the real-world activities start. To put it simply, in this technical module, Data Centre is in the center, the gateway devices (such as switch, route, etc.) will be at the edge.
IoT having Data will send to those devices at the edge, then Processors (Chip) in the network will analyze and process data.
By 2020, IoT devices used in business and the government are about 5.8 billion devices (compared to 2015, only 570 million devices)!! IoT devices usually aren't equipped with robust data (due to the tiny size of devices), and Fog Computing is exceptionally suitable.
2. How does Edge Computing operate?
---
To explain how it operates in the real-life, we can take an example from any smart device. Each IoT sensor creates a lot of data per second. Data are immediately sent to a unified cloud database in cloud computing, the center where it is processed and stored.
If any activity is required, the server will send the response back to the device and analyze the obtained data.
Though the whole process takes less than a second to complete, it can have some errors, like a delayed or interrupted response. This can be caused by network problems, weak Internet connection, or the data center is simply too far from devices.
In the case of edge computation, you don't need to send the obtained data from IoT sensors anywhere. The device or the network node (the router) is responsible for processing data and responding appropriately if the action is required.
Deploying sensors and devices remotely requires a real-time process. A centralized cloud system is typically relatively slow in this case, mostly when decision-making must be made in microseconds.
This is more especially true of IoT devices in regions or areas with poor connectivity. However, when the real-time process's ability requires the processing in the cloud. For instant, data compiled by a weather monitor needs to send in real-time to supercomputers.
With Edge Computing, IoT devices are no longer dependant on the INternet connection and can operate as a standalone network node.
3. What are edge computing's benefits?
---
---
Edge computing allows clarifying the scopes of computational resources to optimize processing.
Time-sensitive data can be processed at the local processor's origin point (a device with its computing power).
Intermediate servers can be used to process data close to the geographic location close to the source (this is assumed to be acceptable medium latency, although real-time decisions should be made near the resources). Cloud servers can be used to process less time-sensitive data or to store long-term data. With IoT, you can see this manifest in the Analytics Dashboard.
Edge app services significantly reduce the amount of data that must be moved. The traffic volume and the distance in data are transferred, reducing transmission costs, reducing latency, and improving the service quality.
Edge Computing eliminates large bottlenecks and potential errors by emphasizing dependence on the core computing environment. Simultaneously, data security is improved as encrypted data is examined and bypasses firewalls and other security positions where viruses and data are compromised so hackers can be deceived.
Unlimited scalability and security: Unlike the cloud, Edge Computing allows you to scale your IoT network as needed without consulting the available storage.
4. Edge Computing's potential in the future
---
Industries with powerful future computer case studies are:
Tourism, manufacturing, and supply

Energy

Retail

Health care

Utilities
Here are 3 Edge Computing IoT examples to demonstrate how it's used according to the above list.
4.1. Automated vehicle
Automated vehicles represent one of the most critical IoT computer case studies.
A simple means of transport can't merely rely on a remote server to decide if it needs to stop when pedestrians cross the street. The decision needs to be made immediately, and data must be processed on-premise, regardless of the Internet connection.
Besides, those transportations (even on the road) can communicate more effectively since it doesn't need to send data about accidents, weather conditions, traffic, or the roundabout to the remote server.
4.2. Healthcare equipment
Another evidence is that Edge Computing is applied in the health industry and other wearable devices. When using the remote treatment to monitor the patient's chronic condition, they can become real-life-savers.
For example, a heart rate monitor can independently perform health data analysis and provide needed caregivers' responses to alert when patients need their help.
Robot-assisted surgery is another prime example in healthcare, especially when each nano per second means the difference between life and death. Those robots need to analyze data on their own to provide safe, fast, and accurate surgical assistance.
4.3. Security
Any security system can respond to security threats within seconds, which is why it makes sense Edge Computing is used for surveillance systems.
Therefore, with on-device video processing, the camera can detect any movement, identify any intruders and alert the users in case of intrusion and suspicious activities.
Instead of sending a massive amount of raw data to the server for processing, those cameras can save Internet traffic and reduce bandwidth and cloud storage while improving accurate responses.
4.4. Other Edge Computing's app examples
Traffic lights and wide cabins don't need to communicate with the cloud 24/7 (even they sometimes can connect with the server) and are automated.
Streetlights can create an autonomous, self-sustaining system by communicating directly with each other instead of being mediated by the remote cloud.
Agricultural smart sensors don't need to switch to a central server to decide when to water nearby crops or add fertilizer. They can smoothly perform everyday tasks themselves and synchronize with the main cloud.
We, "Hachinet Software", are Vietnam-based software services with dedicated, dynamic, enthusiastic teams who always have made efforts to please customers' and partners' satisfaction. We specialize in the followings:
Framework (ASP, MVC, AngularJS, Angular6, Node JS, Vue JS)
Mobile application: IOS (Swift, Object C), Android (Kotlin, Android)
System applications (Cobol, ERP, etc.),
New Technology (Blockchain, etc.).
If you are considering offshore development, please feel free to contact us.
※Here is our contact information.
Account Manager: Quan (Japanese/English available)
Phone number: (+84) 2462 900 388
Email: contact@hachinet.com
Please feel free to contact us for consultation / application by phone.