Introduction of application development cases ❘ Hachinet Software
Introduction of application development cases ❘ Hachinet Software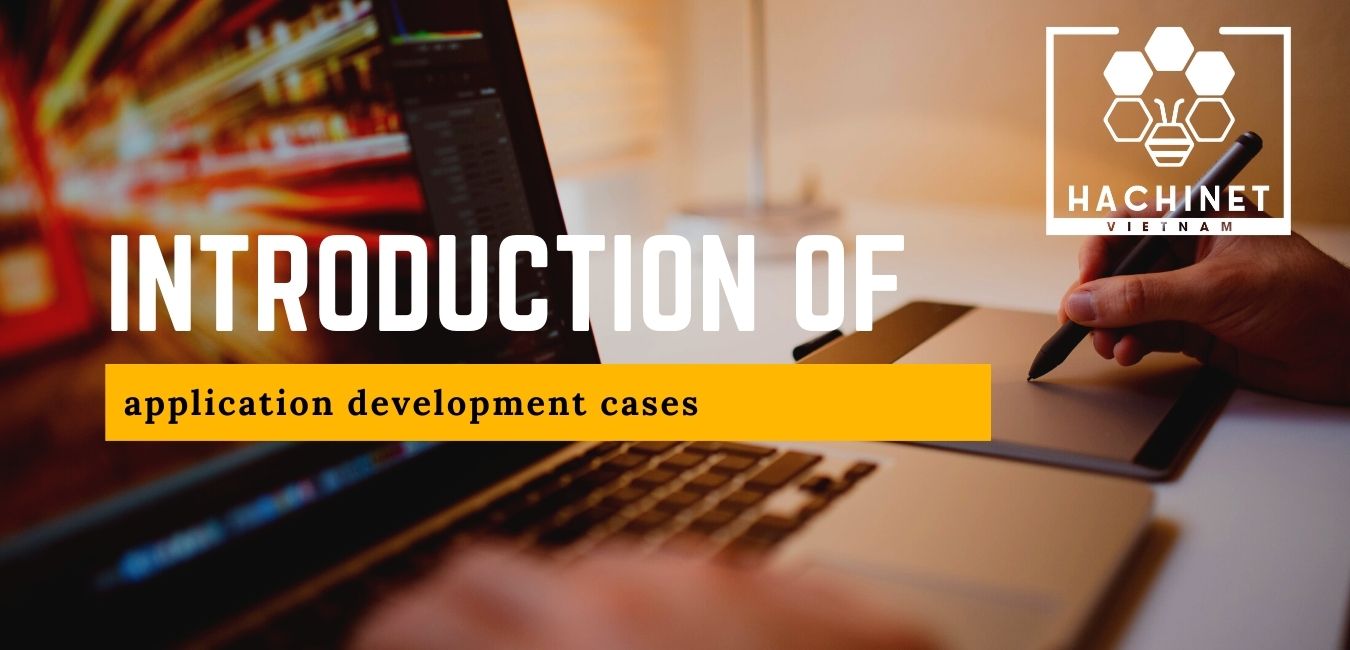 There are various types of app development, from business apps that specialize in business to game apps for entertainment. Smartphone app development has become a popular mobile app and an integral part of most people's lives. This time, Hachinet will introduce the basic knowledge of application development and application development cases.
1. Basic knowledge of application development
---
First, before introducing the application development cases, we will briefly introduce the basic knowledge of application development.
1.1. What is app development?
Application development is one of the software development fields. Application developers create applications using programming languages ​​on smartphones, iPhones, computers, and etc. For example, online payment applications, ride dispatch applications, delivery applications, food orders, delivery applications, etc.
In addition, an application refers to software that is used properly according to the purpose of work, such as word processing software, spreadsheet software, and image editing software.
1.2. Languages ​​required for app development
The programming language used to develop each app is different. Among them are Java and Swift, which are the languages ​​required for application development?
For iPhone, we use a programming language called "Swift". What is Swift? Since Swift is open-source, free and anyone can use it. It's a useful language since it can be used for Apple products and for other programmings.
For Android, the programming language used is "Java". It is a language widely used in various system developments. Java is a popular language that is still used at the forefront even though it is old.
1.3. App development environment
Next, we will introduce the application development environment called "Xcode" and "Android Studio". In the case of iPhone apps, it is a dedicated tool called Xcode, which means that you can start app development only after installing them. Xcode doesn't mean it can be installed on any computer, it's only for Mac.
On the other hand, Android Studio is the same as Xcode and can be installed on any computer. In Android application development, a tool called "Eclipse" is used, but Android Studio is a dedicated tool developed by Google. This is currently recommended.
2. Application development example
---
Next, we will introduce our services and application development examples.
2.1. NETBEE.VN
Features and features:
Registration and Labor Export Center and Netbee Account Creation Consultant
Registration and Labor Export Center: Posting registration information
Counselor: Provides candidate information related to the Center for Recruitment and Labor Exports
Click here for more details.
2.2. Dream diary
Features and features:
Build the game on Android and iOS.
Address bugs that occur on mobile.
Improve performance for mobile.
Place ads in the game.
Add the Apps Flyer SDK for user data analysis.
2.3. DEVWORK.VN
Features and features
IT companies and HR freelancers create Devwork accounts.
IT company: Post an advertisement for recruiting IT personnel.
HR Freelance: Provide a resume of suitable candidates for a recruitment advertisement for an IT company.
Click here for more details.
2.4. Smartphone application development
Features and features:
Manage each cryptocurrency in your wallet.
Trade cryptocurrencies with yen.
Click here for more details.
3. Attractiveness of application development
---
3.1. Even beginners can develop apps
Basically, all you need to develop an application is a computer connected to the Internet. The programming environment required for development can be obtained online for free.
Also, since there are many people who are developing apps, there are many samples, advice, and auxiliary tools on the net. Therefore, even beginners can develop apps.
3.2. Get extra income
One of the other attractions of app development is that you can register, distribute or sell your app. It is quite possible to earn extra income by developing an application. The nice thing about smartphone apps is that even if you distribute them for free, you can generate income if you install in-app ads.
4. Demand and future potential of application development (engineer)
---
The Internet will become widespread since everyone has a smartphone. What will happen to application development in the future? Next, Hachinet would like to introduce the future of application development and future demand.
It can be said that this is a job with high potential. Compared to other fields, the area of ​​responsibility is wide and the amount of knowledge required is enormous, so it is difficult for rivals to emerge.
Therefore, the balance between supply and demand is often unbalanced, and it can be expected that many companies will call out by acquiring basic application development (end engineer) skills. If you want to become a more profitable app developer, it is recommended that you learn the languages ​​required for app development such as Java and Swift, and acquire advanced skills related to infrastructures such as OS and server.
If you are considering offshore development, please feel free to contact us.
※Here is our contact information.
Account Manager: Quan (Japanese/English available)
Phone number: (+84) 2462 900 388
Email: contact@hachinet.com
Please feel free to contact us for consultation/application by phone.