The software development process - a brief introduction
The software development process - a brief introduction

To those outsourcing companies, the software development process plays a crucial role to create a quality product at a low cost in a short time. So what is the software development process, what needed factors are they to have a high-quality, efficient production process?
1. What is the software development process?
---
The software development process is a syntax including organizations operation to establish a software product.
It can help every member from old to new, inside or outside the company to synchronously handle the work corresponding to their position through a common way of the company.
To put it simply, the software development process is to provide a customer's requests into a complete, fastest, and the best app/software system.
The software development process will help you answer these questions:
HR: Who works? Which work are they doing?

Time: When does it start? How long does it take?

Method: How?

Tools: Which are tools needed to complete tasks?

Cost: How much will they spend and receive?

Goals: What are the goals?
Different types of systems require different development processes. Choosing the right development process helps to create quality products, improve productivity, reduce costs, thereby increasing competitiveness and bringing high profits to businesses.
2. Fundamental stages of the software development process
---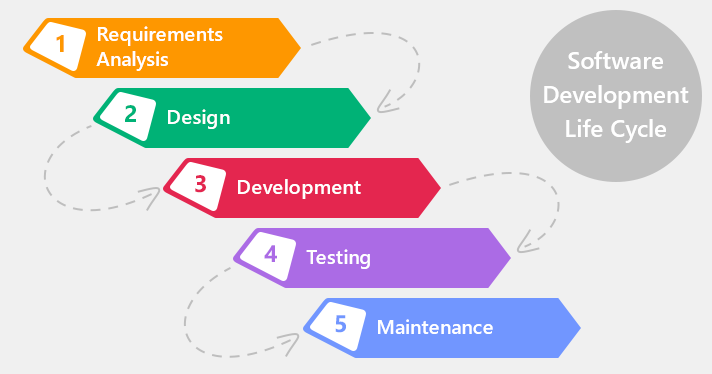 There are many different software development processes but in general, a production process consists of those stages: solution/requirements, design. Programming, testing, and deployment.
2.1. Requirements
Tasks: Carry out a detailed survey of customer requirements and synthesize them into solution documents (business analysis, requirements analysis, requirements specification, sample design). The solution document must fully describe the functional, non-functional, and interface requirements needing to be met.
Output: The requirements specification document, the sample design.
2.2. Design
Tasks: Perform design and synthesis into design documents.
Output: Master design, database design, detailed design.
2.3. Coding
Tasks: Programmers perform programming based on approved Design and Solution documents.
Output: Source Code
2.4. Test
Tasks: Testers create test cases based on requirements specification documents, execute tests and update results into test scripts. During testing, when errors are detected, they will be logged on to error management tools. Testers and Developers will coordinate to handle bugs and update the error management system.
Output: Testcase, errors on the error management system.
2.5. Implementations
Tasks: Deploy products to customers.
Output: Deployment minutes with customers.
3. Several models are used in software development
---
There are many different software development models such as the Waterfall model, V model, spiral model, Agile/Scrum model, software development process rup, etc. In this article, let's take a look at the most popular.
3.1. Waterfall
This is a model including successive processing stages such as:
3.1.1. Requirements and Specifications
This is a stage to determine those relating to functions and non-function that the system requires.
This stage requires the active participation of the customer and ends with a requirements specification document or SRS (software requirement specification). This document forms the basis for the other following activities to the end of the project.
3.1.2. System Analysis and Design
This stage needs to analyze and determine how the software system will meet the customer's requirements according to the SRS document. This phase carries out the analysis and design of software systems.
3.1.3. Coding and Unit Test
This is the stage that implements the product based on the SRS document and the system design document indicated in the above stage.
3.1.4. Testing
After receiving the product from the developers, the Tester performs testing for the group of components and system testing. The final stage of testing will be acceptance testing, this phase also involves the customer in the main role to determine whether the software system meets their requirements or not.
3.1.5. Development and Maintenance
This is the installation, configuration, and training phase for the customer. This phase fixes the software's bugs (if any) and develops new changes requested by the customer (modifications, additions, or deletions of functions/features of the system).
Features of this model:
Applicable to small and medium-sized software.

Projects with clear requirements.

Resources are trained and available.
Cons: It is not until the final stages of the project that the mistakes are realized in the previous stages and must go back to correct them.
3.2. V Model
---
The V-model software development process is developed based on the waterfall model. The whole process is divided into two branches: the development branch and the test branch.
Each development phase will run in parallel with a corresponding testing phase so that bugs are detected early at the very beginning.
3.2.1. Development process
Requirement and Specification

System Analysis

Detailed Design: Detailed design steps to build the system (both interface and content).

Development: Do the writing of code.
3.2.2. Testing process
Unit and Integration Test: Test the modules of the system corresponding to the detailed design phase.

System Test: Test the operation of the system (in terms of both functionality and interface).

Acceptance Test: Final inspection and acceptance of the product, put into use.
Pros
Testers are involved from scratch, so bugs are detected earlier, less time-consuming, and costly than in later stages.
Cons
The requirements are put into operation at the same time, so it is easy to face risks when the customers change the requirements.
---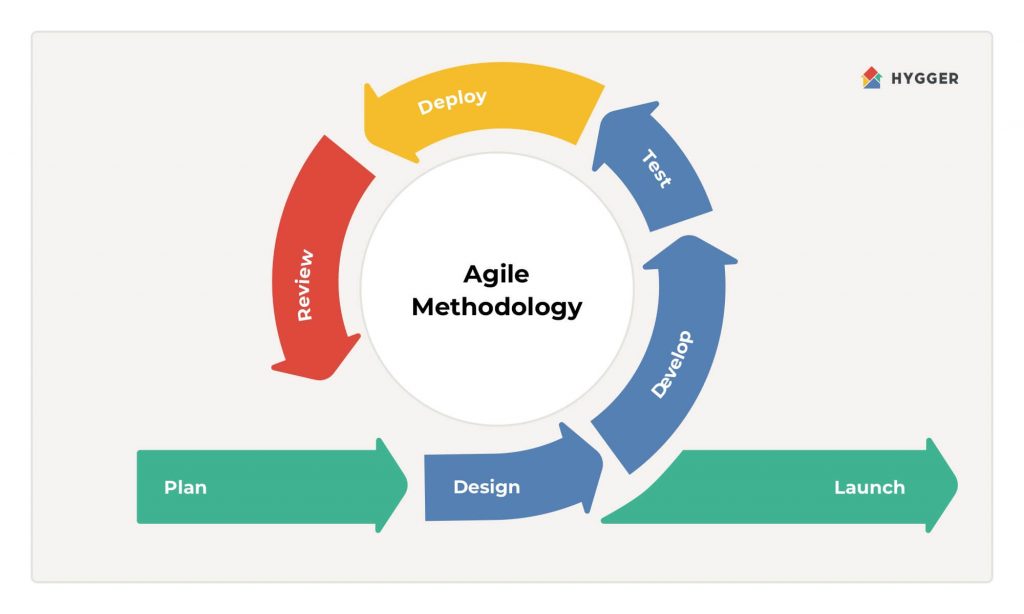 Agile is a flexible software development method to bring products to users in the fastest way. Scrum is an Agile software development process that is highly adaptable. Based on transparent information from the audit process, Scrum can respond to changes positively, thereby bringing success to the project.
The Scrum software development process doesn't implement the entire requirements/business of the system into Code and Test simultaneously but will divide the requirements into phases. Each phase only does a certain number of requirements, which is called sprint.
Each sprint usually lasts from 1 to 4 weeks (no longer than 1 month). At the beginning of each sprint plan what requirements to do, then code and test. The end of the sprint is a finished product that is both code and testable and a demo can be run. Complete sprint 1, continue to do sprint 2, sprint 3, etc. until all requirements are completed.
Pros
This process is suitable for changing requirements or studying the system in short periods of time, and we can see all the risks or unsuitable points for change.
Cons
The scale of human resources is often limited, there will be obstacles with projects that require large human resources. Requires human resources to have Agile knowledge.
Above is the knowledge about the software development process and the most popular models nowadays. The choice of software development models greatly affects the performance and operating costs of the company, so it is necessary to carefully study and apply the most appropriate process.
We, "Hachinet Software", are Vietnam-based software services with dedicated, dynamic, enthusiastic teams who always have made efforts to please customers' and partners' satisfaction. We specialize in the following:
Framework (ASP, MVC, AngularJS, Angular6, Node JS, Vue JS)
Mobile application: IOS (Swift, Object C), Android (Kotlin, Android)
System applications (Cobol, ERP, etc.),
New Technology (Blockchain, etc.).
If you are considering offshore development, please feel free to contact us.
※Here is our contact information.
Account Manager: Quan (Japanese/English available)
Phone number: (+84) 2462 900 388
Email: contact@hachinet.com
Please feel free to contact us for consultation/application by phone.