What you need to know about TEM (Extended Team Model) and DDT (Lab Development Team)
Are you working on a large, time-consuming project? Is your business growing and need some help to get you up and running? Should you look for new developers or just simply choose between TEM and DDT? Let our extended team or lab development team help you.
What you need to know about TEM (Extended Team Model) and DDT (Lab Development Team)
Are you working on a large, time-consuming project? Is your business growing and need some help to get you up and running? Should you look for new developers or just simply choose between TEM and DDT? Let our extended team or lab development team help you.
1. What processes can be used for outsourcing?
---
Companies usually adopt outsourcing as their preferred business model since it's good for their business. And companies just resort to team extensions when:
Lack of suitable specialists

High load

Require an effective, proprietary software solution

Require external expertise

So what processes should you outsource? You can't outsource everything, for example, long-term projects. Short-term development projects are typically not outsourced as they use a fixed price model. Long-term projects such as SAP or ERP systems can be outsourced to specialized IT companies for the reasons explained in this article. External providers get the job done faster and their services cost less than expanding an in-house staff. Non-core business activities can be outsourced, but delegating core business activities can be slightly riskier.
If your company plans to outsource software development, keep in mind that not only IT specialists but also project managers, analysts, and testers will be involved in the process. For effective cooperation, their obligations must be carried out either on the client side or on the outsourcing company side.
2. Advantages of software outsourcing
---
There is no need to search the labor market for qualified specialists or train new staff. Outsourcing company professionals have the relevant experience and the right skills for the project and are ready to work immediately. Plus, employers don't have the headaches associated with laying off employees.
A full-time IT specialist will take over the entire project, from business process research to system maintenance. All you need is comprehensive dialogue and support. It helps you achieve the best results in the shortest time.
In various cases, you can rely on the most convenient pricing model. You can find the cheapest offers in countries in Latin America, Eastern Europe, and Asia. India, Mexico, the Philippines, and Ukraine – all offer excellent and dedicated teams and their talents seem to grow.
3. Disadvantages of software outsourcing
---
This type of software development team expansion can be more costly when applied on a regular basis. An outside professional development company is usually more affordable than building an internal team. Employers can save on wages, tax deductions, administration, etc. If IT outsourcing services are in constant need, it's worth considering the possibility of expanding your staff.
Certain communication problems can occur. Some employers believe that outsourced teams can take longer to complete a project because it can be difficult to explain all the nuances. However, in many cases, this is the client's fault. Therefore, it is important to find time to discuss all aspects with the outsourced team.
4. What is the development team like?
---
Each member of the software development team is an expert in a particular field with specific professional strengths. Responsibility for results is distributed among specialists, enabling rapid product implementation without compromising final quality. The development team consists of the following experts:
This person is responsible for developing, maintaining, and delivering design work. The project manager also assumes full responsibility for results and financial risks. Project work begins with this expert setting tasks and monitoring quality and efficiency.
A technical leader's competencies include the ability to choose and apply the right software development methodology, whether Agile, Scrum, or DevOps. Technical managers handle the following aspects of collaboration:
Choose third-party software for your project responsibly. Recommendations for the selection of specific algorithms or architectural solutions, and determination of technical characteristics in the production process.
They participate in validating the results. Our QA specialist's systematic approach allows us to test both program code and UX on the map. Also, an important aspect of the activity of this specialist is the ability to plan is to develop a test plan, follow it and write a report on the developed plan.
This professional is engaged in creating software algorithms. This role is often divided into two parts:
1. Back-end developers: Developers of software and complex software. It deals with the "front" of your site or app, i.e. the design and coding.
2. Front-end developer: The developer of the client part of the user. Front-end development represents everything server-side of a site or app, including important data.
5. Comparison between the extended team and lab development team
---
First, both models benefit from a global talent pool, as the selection is not limited to local experts. In short, outsourcing gives you instant access to the best IT professionals you can find.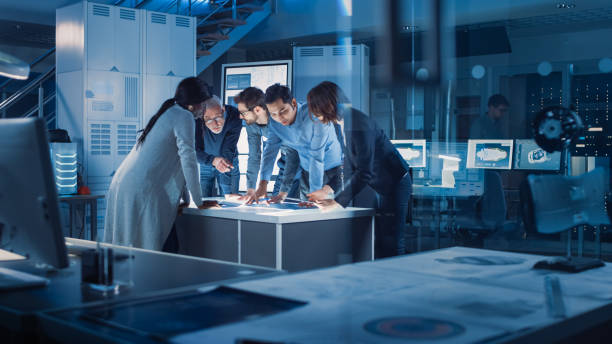 The extended team model is about adding missing skill sets to an in-house development team and keeping strategic capabilities entirely in-house. This model is based on time and material contracts.
With extended teams, businesses can minimize costs associated with acquisition, payroll, and project management. This model is also scalable. In addition, a complete shift of responsibilities reduces the formalities associated with hiring and allows you to focus on your core business activities.
The lab development model is a form of outsourcing when you hire an entire remote extended development team and outsource the project to them. The outsourcing company of your choice will create a special team that specifically includes the PMO. This reduces the need for practical administration on the client side.
The lab development team model is more than just an extension of your team. Software service providers represent business analysis, design, UI/UX design, quality assurance (QA), project management, support, and maintenance, and are deeply involved in the A to Z development process.
6. Final tips for choosing the right model for your business
---
Every company has its own approach to software development. That's why software outsourcing companies offer multiple models to suit different project needs.
Extended team and lab development team models let you leverage the best technical skills in IT. When hiring dedicated developers, you may expect them to accumulate skills and experience in your narrow niche. Ideally, it should be integrated with your internal team as part of your company. You can later scale up or down your extended team based on your business goals.
If you have any questions or concerns about outsourcing services, Hachinet offers free consultations from industry experts.
If you are considering offshore development, please feel free to contact us.
※Here is our contact information.
Account Manager: Mr.Quan (Japanese/English available)
Phone number: (+84) 2462 900 388
Email: contact@hachinet.com
Please feel free to contact us for consultation/application by phone.