What is Linux? A brief introduction of its advantages and disadvantages and Linux distributions
What is Linux? A brief introduction of its advantages and disadvantages and Linux distributions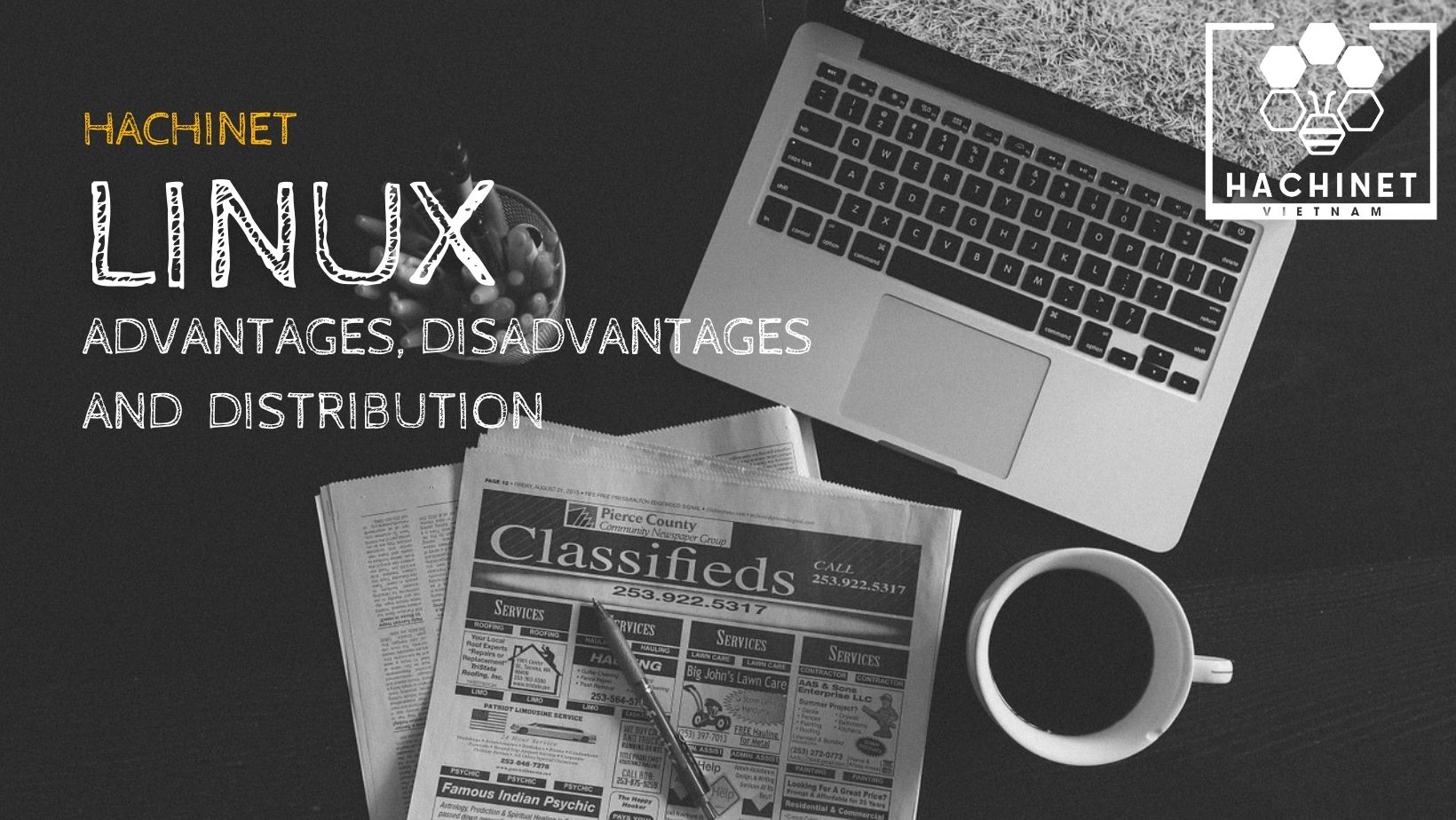 The Linux is developed based on the Unix operating system and is released for free. Server Linux is more commonly used than Windows and other operating systems. So what are Linux's strengths and weaknesses that make it the most popular operating system just behind Windows and macOS?
1. What is Linux?

Linux is a widely used computer operating system. And the big customers are IBM and Dell. Linux is also the kernel name of this operating system.
2. Advantages
The dominance of Windows and macOS did not stop operating systems like Linux from evolving. In addition to the usual functions, Linux also possesses many other outstanding advantages.
2.1. No cost to buy/sell copyrights
With this operating system, you do not need to pay a license fee, and you can use all the features. Includes OpenOffice and LibreOffice office apps.
2.2. High security
All malicious software such as viruses, malware, etc. can't work on Linux. Therefore, the security of the operating system is strict.
2.3. Flexibility
In particular, users can also edit the operating system according to their needs. This is the ideal opportunity for programmers and developers.
2.4. Works smoothly on computers with weak configurations
With Linux, when upgrading to a new version, computers with weak configurations will still be upgraded and supported regularly, which means the quality of operation is still smooth and stable.
3. Disadvantages
However, Linux also has weaknesses.
The number of applications supported on Linux is limited.
Some manufacturers don't develop drivers that support the Linux platform.
If you were used to using another operating system before, when you switch to Linux, it will take you a lot of time to get used to this operating system.
4. The use of Linux
Linux is a major threat to the Windows and Mac OS markets since Linux possesses many outstanding features, such as:
Manage and coordinate system resources.
Make it possible for users to see almost every line of code in Linux. Best support for operating system editing and development based on customer's own needs.
All features are free and no license required.
Diverse interface, high security, regularly upgraded to new versions.
In particular, the Linux operating system is relatively lightweight. Therefore, machines with weak configurations can still operate stably on this operating system.
5. The difference between Windows and Linux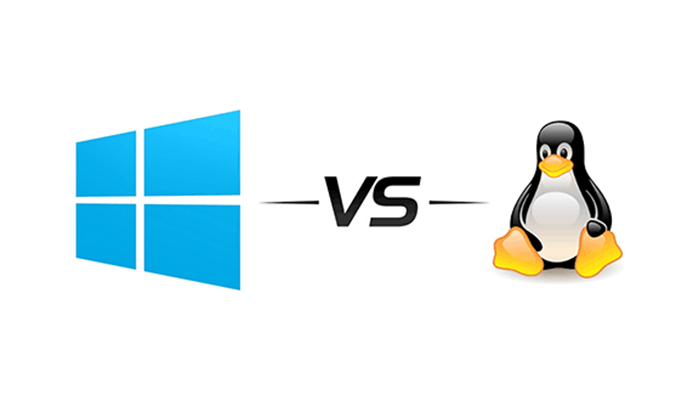 Compared to Windows, Linux has certain differences. For those who are familiar with Microsoft's operating system, surely this transition will not be so easy at first. However, the benefits it brings will definitely make you satisfied.
Accordingly, the notable differences between these two operating systems are:
5.1. File structure
With Linux, folders like My Documents, C drive, D drive will be replaced with data trees, where the drives will be placed, including the Home and Desktop folders.
5.2. Do not use the Registry
The registry is a master database for all settings located on the computer with the function of holding application information, user passwords, device information, etc.
However, Linux does not use the registry, but the data is arranged in a modular form. To save user data, Linux saves its settings on the basis of a user hierarchy.
5.3. Package Manager
With Linux, the programs installed on the machine are not in the form of *.exe like Windows but are collected in a package manager.
Thanks to this special feature, when you want to install a program on your computer, users needn't go to web browsers such as Chrome or Firefox to download, but just need to look in the data stores of the package manager, then download.
5.4. Interface
During the upgrade and development process, the interface of Windows won't change too much. While with Linux, users can change the interface at any time without reinstalling windows because the interface is completely separate from the core system.
5.5. Terminal command
Linux is an open operating system with publicly visible lines of code presented as a black box with blue text.
5.6. User Accounts and Permissions
Linux has 3 types of users, Regular, Administrator (root), Service.
Regular: is where all files and folders are stored.
Administrator (root): used when users want to install software, change system files or perform other administrative tasks on Linux.
Service: enhance the security of the computer.
While Windows has 4 types of users: Administrator, Standard, Child, and Guest.
5.6. Other control settings
Linux is more suitable for web surfing, chat, and email than for gaming.
6. Linux distributions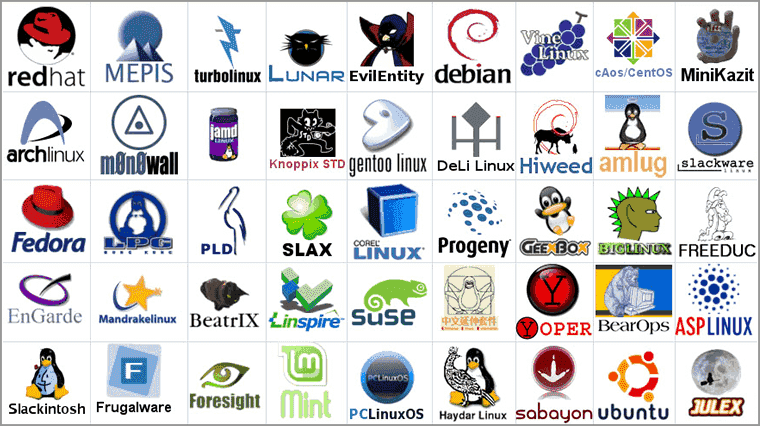 Linux regularly upgrades and distributes to users new operating versions. There's still a decent collection of archived versions.
Let's find out more details about each version right below.
6.1. Ubuntu
Ubuntu is the most popular, modern distribution of Linux. Ubuntu's goal is to give users the best experience on computers and servers.
Ubuntu is increasingly being improved to suit user requirements. However, it still remains its uniqueness.
6.2. Linux Mint
It is one of the most loved Linux distributions built on top of Ubuntu. Therefore, Linux Mint inherits most of the proprietary software and facilities of this "elder".
6.3. Debian
Debian is an operating system consisting of free and open-source software that has always been loved by the developer community. Although new versions are regularly released, the downside of Debian is that it is quite slow to update compared to other distributions.
6.4. Fedora
Fedora mainly focuses on free software, so users often face difficulties in installing proprietary graphics drivers on Fedora. Currently, this version is still constantly being improved and further developed.
6.5. CentOS/Red Hat Enterprise Linux
Red Hat Enterprise Linux is a commercial Linux distribution for servers and workstations, built on top of Fedora, but with a more stable and long-supported platform.
6.6. OpenSUSE/SUSE Linux Enterprise
OpenSUSE is one of the more powerful Linux distributions. This is considered one of the most user-friendly distributions of this operating system.
6.7. Mageia/Mandriva
Mageia with a flexible, lightweight, and simple design as possible. Mageia is considered a "predecessor" among Linux distributions. In addition, Mageia provides clean configuration files designed to help users edit easily.
6.8. Slackware Linux
Slackware is the oldest distribution of Linux, still in use and regularly releasing new releases.
6.9. Puppy Linux
Puppy Linux is a well-known Linux distribution based on Slackware. Puppy Linux is designed to be a small, lightweight operating system that runs smoothly on older computers.
We, "Hachinet Software", are Vietnam-based software services with dedicated, dynamic, enthusiastic teams who always have made efforts to please customers' and partners' satisfaction. We specialize in the followings:
Framework (ASP, MVC, AngularJS, Angular6, Node JS, Vue JS)
Mobile application: IOS (Swift, Object C), Android (Kotlin, Android)
System applications (Cobol, ERP, etc.),
New Technology (Blockchain, etc.).
If you are considering offshore development, please feel free to contact us.
Here is our contact information.
Account Manager: Quan (Japanese/English available)
Phone number: (+84) 2462 900 388
Email: contact@hachinet.com