What is CRM? Benefits and functions of CRM software in business
What is CRM? Benefits and functions of CRM software in business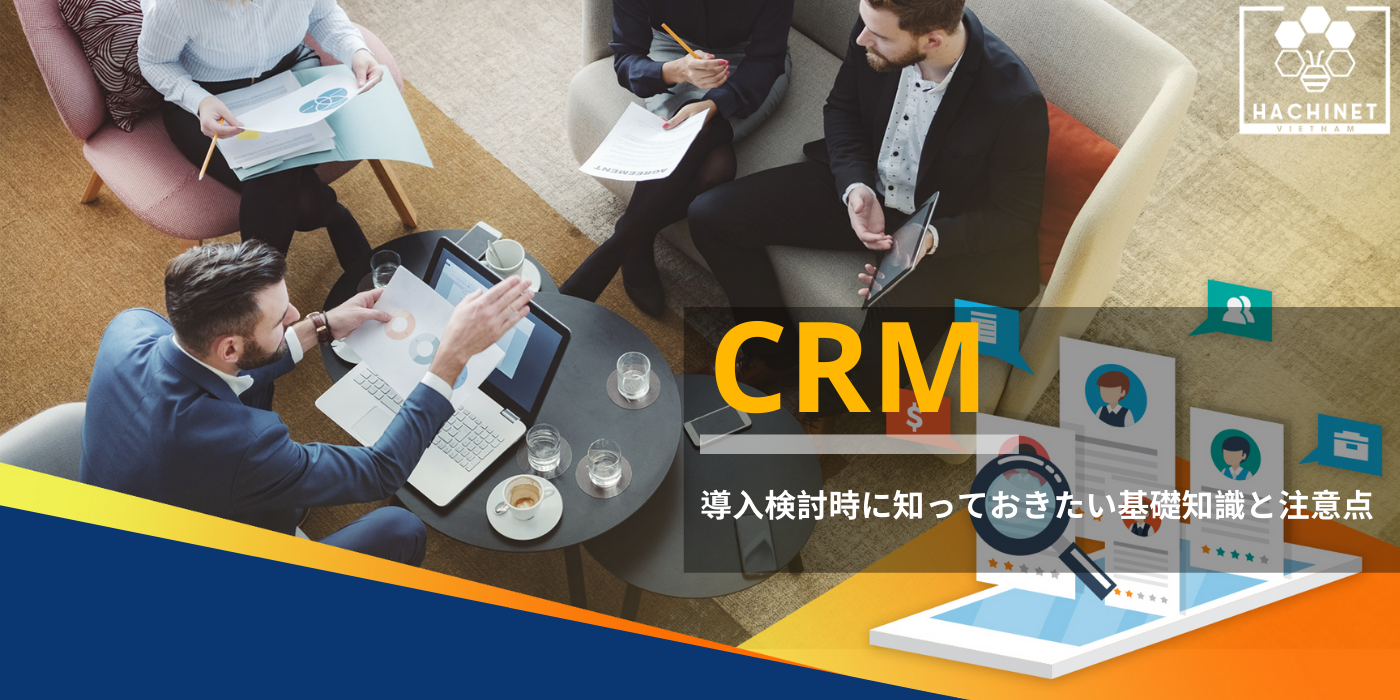 In the relationship between business and customers, we always need an effective tool to manage and archive the customer journey, which leads to a CRM system, a perfect solution.
So, what is CRM and what specific functions does it have? Let's find out with Hachinet.
1. What is CRM?
---
CRM (short for Customer Relationship Management) is a concept used to refer to the "customer relationship management" activity of the business. This term has been around since the 20th century when the focus of the business was shifted from products to customers.
To put it simply, the business uses this method to manage and uses customer information (name, age, gender, address, contact, etc.,) in the most effective way so that they can employ all the business strategies to establish relationships with customers.
CRM is a powerful tool that helps businesses to perform the customers' relationship more effectively. This software helps businesses optimize the customer service process, and increase the UX to build loyalty between potential customers for organizations.
Businesses can easily use CRM systems to filter and identify potential customers so they can make strategies to approach, market products, and drive sales effectively. All are aggregated in just one software and form a seamless data flow.
CRM software aims to organize the relationship between customers and businesses by recording service problems. Thanks to the visibility and easy access to data, you can see how customers have been contacted by you, what they bought, when they last bought, what they paid for, and etc. This tool can help companies of all sizes drive business growth.
2. CRM's goals
---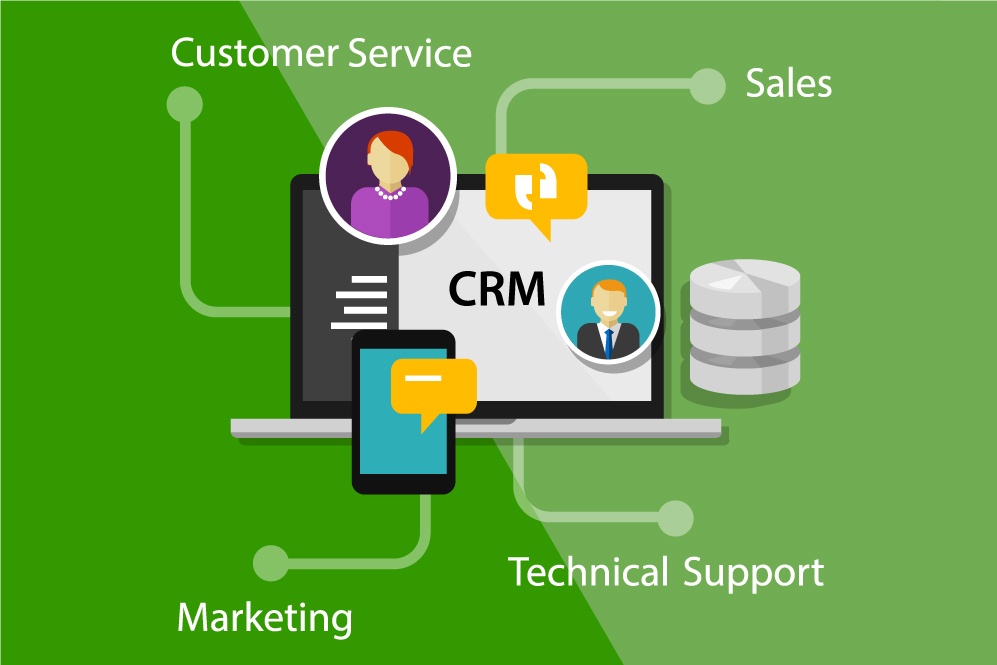 CRM helps businesses gain insight into customer behavior and values through technology tools and human resources. With an effective CRM strategy, a business can increase revenue by:
Provide exactly the services/products customers want.

Provide better services.

Complementary products are more effective.

Help sales staff sell products faster.

Retain existing customers and find new ones.

Simplify the marketing and sales process
Click here for more information ▶
3. Benefits of using a CRM system
---
CRM is not only a business support computer software but it is also an effective tool for business success. When you find it too difficult because of overlapping data, unable to manage and classify, and effectively control marketing campaigns, that's when businesses need this effective customer management software.
Here are the great benefits that the solution using CRM system brings to businesses:
Automated storage of customer data: CRM is a tool that captures all data coming from every customer touchpoint (Website/Messenger/Advertising/Facebook). They have the ability to categorize customers by where they come from, what products they are interested in, and how their purchasing activity is done. From there, businesses can easily classify customer groups, filter by each condition to offer reasonable marketing and care campaigns. At the same time, detect duplicate information, perform merging to avoid data disturbance.

Automate the customer care process: Customer satisfaction comes not only from product quality but also from professional and dedicated service from the business side. CRM software integrates connection features, supports phone calls, sends email marketing, SMS quickly for each individual/group of customers you want.

Workflow automation: CRM system automatically saves interaction history, sales staff's care history for each customer. Thereby ensuring the sale fully takes care of all customers, avoiding missing data. The feature of decentralization and employee activity management also helps managers easily control work performance and evaluate sales performance.

Cost savings: CRM software helps businesses save costs thanks to the feature of statistics and effective reports of sales and marketing campaigns. From there, it is easy to re-market with the correct target by channel, by time, and offer the most appropriate outreach and purchase campaigns.
4. Why should we use CRM?
---
Your businesses may have these problems.
Customer data is disturbed, information is missing, misleading.
Customer services are overlapped as the recorded information is not arranged scientifically.
No statistics and evaluation of sales and marketing campaign effectiveness.
The customer data management system is cumbersome and difficult to use.
Lack of data to organize remarketing and loyalty programs.
It takes a lot of time and effort to find data.
Spending a lot of money on marketing campaigns because the data is not filtered, targeting the right customers.
CRM can help you solve these problems that are suitable for every business with variable fields.
Helps increase profits for businesses when they can increase customer conversion rates up to 30%.

Safe storage space, information security, data leakage prevention.

Makes it easy to extract weekly or monthly reports for management.

The CRM system automatically merges duplicate information, helping businesses avoid wasting time searching for data.

Help staff optimize daily schedules and prioritize tasks to ensure customers are not overlooked. Customers are taken care of quickly, contact on time helps to increase satisfaction and brand loyalty.

Create a professional cycle from customer approach - demand elicitation - sales - satisfaction tracking - remarketing.

Help salespeople analyze customer needs and even anticipate their problems - all at the right time.
5. What are the functions of the CRM software system?
---
To better understand the basic functions of CRM software, please follow the following information:
Manage customer records: CRM software is similar to a cabinet that stores customer records from the reach - purchase - return stage. Businesses only need to use smart filtering tools to find specific profiles. It is like a seamless flow of data, grouping customers and regularly updating information and actions of each customer.
Customer service management: All actions from the business to the customer and etc., are clearly shown on the CRM system. You can call, send mail, send SMS, receive feedback, complain, perform preferential programs, gratitude, etc., right at a window of this tool.
Automating the sales process: CRM software helps record the process from the customer's product purchase journey and the reception and support from sales staff. All transactions are clearly recorded, transparent, easy for businesses to manage sales performance and manage sales opportunities.
Marketing automation: Helps to screen audiences, target each specific marketing campaign. This is also a tool to monitor and evaluate the effectiveness of marketing and re-marketing campaigns.
6. Which types of businesses should use CRM?
---
Here are the types of businesses that can benefit from a customer relationship management system.
Businesses that have implemented marketing forms: Any business that has implemented marketing forms can use CRM. Because an effective CRM system will help bring useful information to marketing departments to adjust marketing plans accordingly. Statistics have shown that marketing with specific customer segments is always more profitable than mass marketing because they both waste money and bring no real effect.
Businesses use invoices for payment and quotes: Owning the invoicing function in CRM helps businesses create a faster and more professional invoicing process. Using only a single software program to do all the work, from managing customer information to creating price lists and issuing payment invoices, will significantly increase the efficiency of productivity of the whole company. Then, you will no longer have to fiddle between countless apps to get the job done.
Customer-centric businesses: For example, when a customer calls the business but connects to the wrong department, the staff talking to the customer can still use the CRM system to find the customer's details, transfer the call correctly to the exact department in seconds. Customer satisfaction will definitely increase if you help them solve problems more quickly and completely, which increases customer trust and satisfaction.
Businesses with a sales team: CRM system will help sales professionals identify different trends and customer behaviors. This will be one of the effective support when your employees want to up-sell and cross-sell. Besides, CRM software also helps the sales department to regularly update emails about potential customers to further improve the ability to close the product.
Businesses want to increase work efficiency: Using only one CRM system means that you will save maximum time in a day. CRM also makes your work better in many aspects, from click-to-call functionality, project management integration, customer information notes to automation integration. marketing and evaluating potential customers. CRM will definitely help your business cut costs and maximize business efficiency.
7. Models of popular CRM software
---
7.1. Based on the technology platform
On-premises CRM: This is a type of CRM software that is installed on a business server. This helps you to fully control all data and handle the problem inside, ensuring the security and stability of the system.

Cloud CRM: This is a type of CRM software built on top of a third-party Data Center system. So you can save an initial cost and is especially attractive to businesses with limited technology.

Open-source CRM: This type of CRM software allows you to customize for free. What's more, is to use the necessary features fully and in accordance with the software configuration.

Social CRM: This is a type of software built through social networking sites such as Facebook, Twitter, LinkedIn, etc. From there, businesses can easily capture and track customer relationships with businesses and offer communication solutions. suitable information.
7.2. Based on business type
B2B CRM: This is software for businesses that sell products and services to other institutional customers with a complicated sales process. The main function of these tools is internal management, quote management, tracking consumer purchasing stages, or debt management needs.

B2C CRM: This is software for businesses to sell products and services to individuals or end-users. The specific function of this tool is to build loyalty programs through supporting features such as email marketing, social network integration, and customer care.
We, "Hachinet Software", are Vietnam-based software services with dedicated, dynamic, enthusiastic teams who always have made efforts to please customers' and partners' satisfaction. We specialize in the following:
Framework (ASP, MVC, AngularJS, Angular6, Node JS, Vue JS)
Mobile application: IOS (Swift, Object C), Android (Kotlin, Android)
System applications (Cobol, ERP, etc.),
New Technology (Blockchain, etc.).
If you are considering offshore development, please feel free to contact us.
※Here is our contact information.
Account Manager: Quan (Japanese/English available)
Phone number: (+84) 2462 900 388
Email: contact@hachinet.com
Please feel free to contact us for consultation/application by phone.