The difference between Native App Development and Hybrid App Development
The difference between Native App Development and Hybrid App Development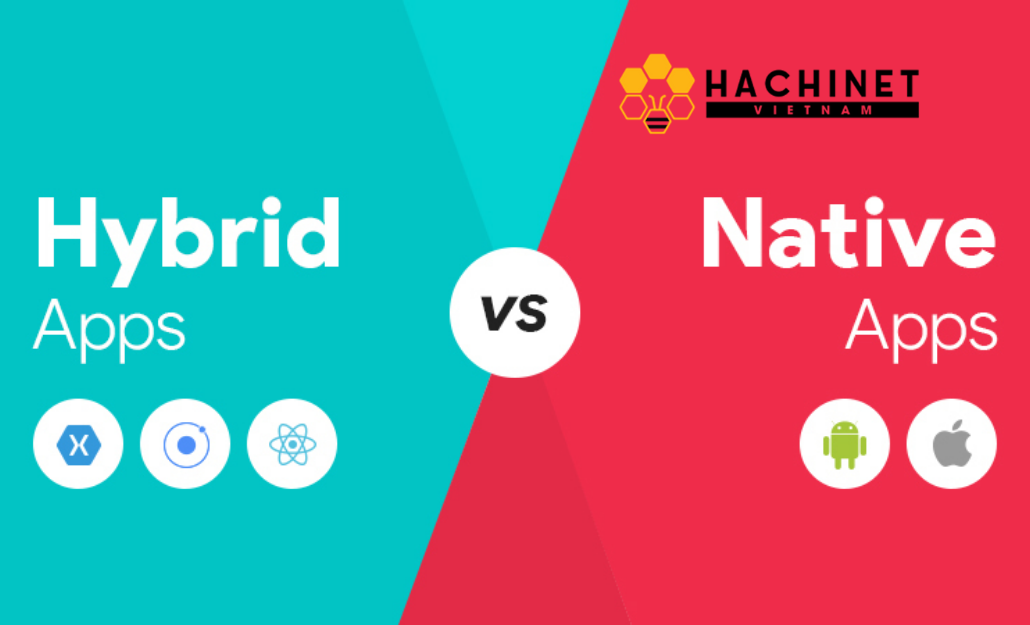 Currently, smartphones have become more prevalent, which leads to 52.2% of the website accessible on mobile phones in 2018.
The availability of cost-effective smartphones has led to our increasing reliance on smartphones, making it difficult for developers to choose between Native Mobile App Development or Hybrid App Development.
1. The importance of UI/UX in app development on mobile phones
Before Hachinet compares app development foundations Native and Hybrid, there is a critical aspect in app development, customers.
Your customers are less interested in technologies and apps providing foundations they're using.
Most people are concerned about what they can use with apps instead of what created them. Therefore, UX and UI are the most critical aspect of any device.
79% of users try any app once or twice if it doesn't work on the first try, while only 16% will try more than twice.
Poor UX discourages users from using the app.
2. Native and Hybrid apps - Brief introduction
2.1. Native App Development
A native mobile app is created to use in one foundation or specific devices, such as Android, iOS, BlackBerry, or Windows.
The native app is created and specific codes to a particular platform in its native programming language
There are different principles for each foundation, and programmers need to fully grasp them due to differences in typography, graphic style, animation, visual effects, data input, etc.
2.2. Hybrid App Development
A hybrid app is created as the only app to use on many foundations such as Android, iPhone, and Windows.
In fact, a hybrid app is an incorporated native app and web app.
It's a product operating on many platforms such as iOS, Android, Windows, etc.
It's like a native app, but the truth is it running on the companies' websites. It's created by HTML5, CSS, and JavaScript, which are web-based programs housed in a native application shell and connected to the device hardware.
3. Native App Development's pros
3.1. Quick performance
In native mobile app development, we have to code for different platforms using different programming languages for each operating system.
So we have an app's different versions created for each platform, and it runs smoothly on it.
3.2. Speed
The app has been optimized for the iOS or Android operating system to score higher on speed and performance tests.
During the native app development, everything is included in the device's capacity and battery usage.
Simplicity in native app development to support apps and integrate new functions.
3.3. UX
The most important to mobile apps is a good impression so that they won't be deleted after the installation.
In native apps, the feel and experience are much better with good scrolling, recognizes specific actions, depth effects and animations, and so many more engaging elements.
3.4. Safety and security
To protect your data, require efficient hardware, which just has in native app development.
3.5. Flexibility
Native apps provide quick access to available device widgets such as camera, GPS, calendar, microphone, and other smartphone functions.
However, hybrid application development has certain limitations in interface architecture because it creates a single app for multiple platforms.
In the native app, there is no limitation. The provided technology can perform everything.
3.6. Personalization
With multiple devices, Android provides different screen sizes on the market. Native app development is the only way to adjust the layout of each device.
4. Native app development's cons
4.1. Development time
Native apps need more time for development than hybrid apps.
Creating and designing for sizes for all devices, such as multiple asynchronous features of Android, iPhone, tablet, etc., takes more time to complete the app.
4.2. Prices
The programmers usually are experts at one platform. It's maybe iOS, Android, or any other platforms.
More programmers in the team, more prices it rises. Moreover, future changes or updates will increase the cost multiplied by the number of members.
5. Hybrid app development's pros
5.1. Prices
If you're on a central budget, app development works once for all platforms (Android, iOS, Windows), so you don't need to hire different programmers.
5.2. Maintenance
As we know, hybrid apps are website apps integrated into a root class so their contents can be gradually updated whenever you want. So apps can be maintained at a low level.
5.3. Less time for advertisement
How fast do you want your apps to be? Since there is a multiple of competitive advertisement and same ideas advertised, you want to introduce your app to users as fast as possible. In this case, Hybrid App is the perfect choice for you.
6. Hybrid app development's cons
6.1. Performance
Hybrid apps need to add an extra layer between the source code and the mobile platform, especially the hybrid mobile framework, which leads to a loss of performance, except that it changes back and forth between applications.
According to Mark Zuckerberg (Facebook founder), "The biggest mistake when we established company was betting on HTML5 on native." Facebook converts their mobile apps from HTML5 to platform-specific, showing a key difference to business apps that they care about.
6.2. Debugging
The extra layer from the hybrid framework can make debugging more problematic. Programmers need to count on this framework to run better with the system, which doesn't have any new bug in the app.
6.3. UX
Compared to native app development, it's hard to maintain UX between Android and iOS. If you too focus on iOS, the Android UX will be worse.
We, "Hachinet Software", are Vietnam-based software services with dedicated, dynamic, enthusiastic teams who always have made efforts to please customers' and partners' satisfaction. We specialize in the followings:
Framework (ASP, MVC, AngularJS, Angular6, Node JS, Vue JS)
Mobile application: IOS (Swift, Object C), Android (Kotlin, Android)
System applications (Cobol, ERP, etc.),
New Technology (Blockchain, etc.).
If you are considering offshore development, please feel free to contact us.
Here is our contact information.
Account Manager: Quan (Japanese/English available)
Phone number: (+84) 2462 900 388
Email: contact@hachinet.com