Swift and brief introduction. The differences between Swift and Objective-C
Swift and brief introduction. The differences between Swift and Objective-C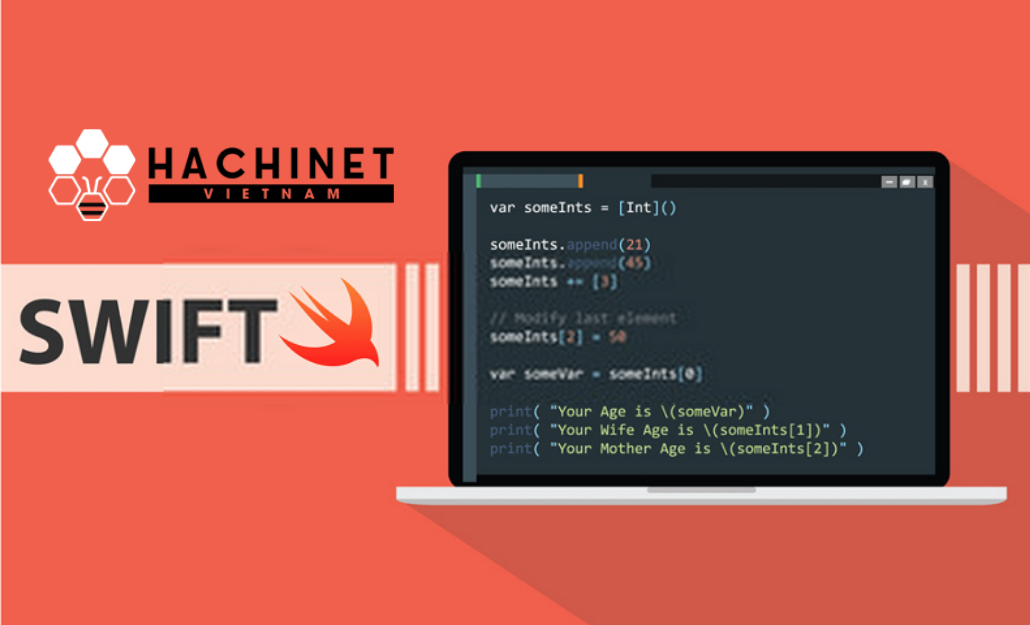 Swift is one of the best programming languages developing iOS apps with outstanding features for App designs.
1. What is Swift?
Swift is a new app design programming language developed by Apple Inc to support programmers in developing apps, running on iOS and macOS, tvOS, Linux, and z/oS operating systems.
Swift is designed to operate with Apple's Cocoa and Cocoa Touch frameworks and most Objective-C codes written in Apple's products. It can use runtime Objective-C libraries that allow C, Objective-C, C, and Swift to run together in one program on Apple's platform.
Friendly and straightforward to write iOS apps, Swift has been turned to Mobile App development by many programmers, as well as helping older iOS developers feel more comfortable than programming in Objective-C.
2. Should you learn Swift programming? What are the advantages of the Swift iOS programming language?

2.1. Swift is the recommended iOS programming language
Apple is continuing to respond to resources and develop Swift. Apple is constantly working on new technologies and devices, and this language will be used in many of those applications. If you want to keep up with Apple as a software developer, you need to know how to program in Swift.
2.2. Swift is thriving
Swift won first place for the most popular iOS programming language in Developer Survey 2015. Still, more importantly, Swift's demand as a career language skyrocketed, and if you want to become an app developer, you need to know it.
2.3. Swift is free and open-source
The feature of the Swift language is that the source code is hosted on GitHub, where anyone can easily get the code, build it themselves, and even make requests to contribute code back to the project.
Users can also submit bug fixes and feature enhancements to the language. They can help port it to platforms other than Mac and iOS and adjust the language if it goes astray.
2.4. Swift responds to speed
According to Apple, the founder of the Swift programming language, making apps with Swift is 2.6 times faster than Objective-C and 8.4 times faster than Python 2.7. The developers finally wanted to make this language faster than C++, one of the quickest practice languages available today.
3. The differences between Swift and Objective-C
3.1. Working speed and performance
Swift and Objective-C are both languages statistically using the same iOS SDK and a compiler. Swift is built on the inheritance of the features of C and Objective-C.
It's expected to exist in parallel with Objective-C, the current programming language for Apple's operating systems. However, some differences affect application performance across two factors.
Objective-C is not a fast language. It uses one language A and will produce a piece of code after being compiled, and that code must be compiled further before the program can run. The main reason is that it uses code compilation during execution instead of compile time. At the same time, the Swift language is a good choice for performance-sensitive code.
According to many tests, it shows performance close to C++ for FFT algorithms. Swift is also superior to C++ for the Mandelbrot algorithm. Because Swift is still a young language, we can expect many more improvements.
3.2. Safety and s
ecurity features
Swift supports many core Objective-C-related concepts, notably dynamic retrieval, universal constraints, extended programming, and similar features, but in a "more secure" way, helping to catch software bugs.
The other important thing to understand about Objective-C's safety is that it uses null pointers. A cursor is part of C++ and other C-based languages, and it can cause security holes. This is the method for displaying the values that help the developer access higher data.
For example, better memory management means less chance of misallocating data, accessing the wrong parts of memory, changing data without changes.
As another example, better error handling means fewer overall crashes, and when it crashes, catastrophic scenarios happen more rarely. Unexpected behavior is also significantly reduced.
3.3. Syntax
Apple's goal with Swift is to design a simple and straightforward language, while Objective-C has a complex code structure due to its C language as it includes a lot of "@", lines, and accents. Conditional semicolon and parentheses with internal statements if different and other lines.
The difference between Objective-С and Swift is that Swift uses all industry standards for clean coding. Due to its enhanced readability and simple syntax, any developer familiar with JavaScript, Python, or C++ can learn the Swift language quickly.
3.4. Libraries support
Dynamic libraries supported by Swift are loaded directly into the application's memory and optimized for application performance. Direct connection to applications allows them to be updated independently of the operating system. It helps keep your solution current, reduces application size, and speeds up new content loading times.
Objective-C uses static libraries again, which is a significant disadvantage. Static libraries are linked at the last step of compilation after the program is placed in memory. Therefore, the executable must be recompiled in case any changes are applied to the external files. Static libraries are also updated along with other updates, such as new OS versions.
As a modern, high-level, object-oriented, secure, and robust programming language, Swift has been more attractive as a programming language thanks to Apple. If you are a programmer who needs to learn through Swift, it is a must-learn platform today.
Hachinet has synthesized basic knowledge about Swift. We hope it can help you better understand this high-level programming language.
We, "Hachinet Software", are Vietnam-based software services with dedicated, dynamic, enthusiastic teams who always have made efforts to please customers' and partners' satisfaction. We specialize in the followings:
Framework (ASP, MVC, AngularJS, Angular6, Node JS, Vue JS)
Mobile application: IOS (Swift, Object C), Android (Kotlin, Android)
System applications (Cobol, ERP, etc.),
New Technology (Blockchain, etc.).
If you are considering offshore development, please feel free to contact us.
Here is our contact information.
Account Manager: Quan (Japanese/English available)
Phone number: (+84) 2462 900 388
Email: contact@hachinet.com