OUTSTANDING BLOCKCHAIN APPLICATIONS IN REALITY
Blockchain technology was born and with its breakthrough influence has been creating a tsunami of technology covering all fields of industries from long-standing tradition to the latest technology applications. Here are the top outstanding blockchain applications that have been or are being implemented in countries around the world, which are expected to completely change the traditional way of present applications.
OUTSTANDING BLOCKCHAIN APPLICATIONS IN REALITY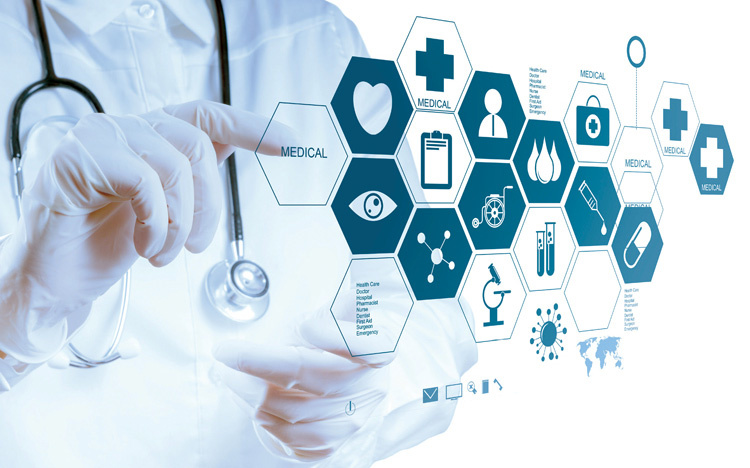 Blockchain technology was found and with its breakthrough influence has been creating a tsunami of technology covering all fields of industries from long-standing tradition to the latest technology applications. Here are the top outstanding blockchain applications that have been or are being implemented in countries around the world, which are expected to completely change the traditional way of present applications.
The World Economic Forum (WEF) predicts that 10% of global GDP will be stored on the blockchain by 2025. That means global operators are preparing for this seismic shift and are ready Fully ready in the next few years. The impact of blockchain technology is expected to be as great as or greater than the internet revolution (1990s) thanks to the rapid and powerful spillover support of today's internet networks.
Blockchain application in e-government management
In the world, Blockchain has been applied by some governments in some countries, including Social Welfare Management and Revenue in England, Land Management, Land Title Registration in Georgia; Electing and controlling personal identities and health care fields in Estonia; Interbank payment service in Singapore; Business registration activities, forwarding, travel or health care in Dubai ...
Among the technologies that develop e-government, blockchain is currently gaining a lot of attention thanks to its transparency, reliability and data security, especially it is suitable for providing public services. Online for people and businesses.
Citizenship identification card
Zug in Switzerland, known as Crypto Valley, has developed a blockchain project in partnership with uPort to register residents' IDs, allowing them to participate in online voting and prove their residency. This is the first citizen ID card to be deployed based on Blockchain platform.
Overview of Zug ID user flow
The 'Crypto Valley' is also the headquarters of a group of Blockchain companies in the small town of Zug just outside the capital of Zurich, with the Ethereum Foundation, Shapeshift, Trezor, Bitcoin Suisse, etc. the most typical names.
Blockchain in Security - Defense
Port of entry controlling
Essential met with the Dutch government to create a new system to check commuters between Amsterdam and London. Currently, passengers on the Eurostar train between the two countries undergo border control checks at multiple points. Essential is working on a blockchain-based solution that will securely store passenger data, allowing the data recorded in the Netherlands to be checked by UK agencies. Blockchain will provide a means to ensure that the data is not tampered with and can verify correctly.
Encrypt confidential information
In 2016, the US Department of Homeland Security (DHS) announced a project that will apply blockchain as a means of securely storing and transmitting data that it obtains. Using Factom blockchain, data retrieved from security cameras and other sensors is encrypted and stored, using blockchain as a means to minimize the risk of data breaches. The project is still ongoing.
Technology company.
Microsoft: Microsoft Azure Enterprise customers can access the Ethereum Blockchain as a Service. This gives businesses access to smart contracts and blockchain applications in a secure, hosted environment.
Google: Google is also reported to be working on an exclusive blockchain to support its cloud-based businesses. Parent company Alphabet is developing a distributed ledger that third parties will be able to use to store data, allegedly related to Google's cloud services for businesses, with a label version. White for companies are also active.
Facebook: June 18, 2019 Facebook announced the Libra virtual currency and published many important documents related to the design of this "blockchain-based" coin. This seems to be the best-designed currency recently based on the White Paper document that Facebook has just provided.
The operation of Facebook Libra will be like a central bank, offering monetary policies to control the value of Libra's currency against other "foreign currencies".
Calibra wallets can be registered by now, but Libra and the ecosystem will officially launch globally around early 2020.
Blockchain application in Medical
Delaware US health organization Undertakes Blockchain technology pilot project, focusing on authorization process for health care providers and health insurance companies.
UnitedHealth Group and Humana: Two competitors in the field of Medicare are trying to "cure" the status of inaccurate user information with "medicine" Blockchain. These two major health insurance companies are starting a pilot program to apply Blockchain decentralization to the current, messy, inaccurate user information block. This is a very smart and timely move when CMS (Center for Medicare and Medicaid Services) is conducting a review of penalties for insurance companies up to $ 25,000 / day for the discrepancy in user information.
Change Healthcare Organization: Launched the first Blockchain network model in the field of healthcare, called Intelligent Healthcare Network. With the processing of 550 transactions per second, this technology provides solutions to all remained issues in the health sector nowadays: Improve transparency and efficiency in health work; Handling administrative transactions, controlling revenue and payment status, avoiding losses for health care organizations.
Medical Chain and Patientory: The two leading providers of Blockchain solutions for the healthcare industry, aiming to help patients to control health information closely, manage health care better thanks to Blockchain.
Palo-Alto-based Doc.AI was founded by entrepreneurs Walter and Sam De Brouwer in 2016. By using blockchain-powered AI, Doc.AI aims to create biological data - like the genes and microorganisms system - accessible and controlled by consumers.
Through the implementation of natural language processing and computer vision, the platform can create insights into medical data. The blockchain technology is deployed to allow any user to start a "data test" - a collection of medical data, which will then be connected via data dots to create predictive models. Thanks to this, each patient will have an understanding of the data that he or she must provide to his physician.
Trusted Health is a blockchain project focused on treating life-threatening illnesses. The platform aims to provide better means of communication between doctors and patients, to apply the best diagnostic methods and ensure data access.
The healthcare system often has problems when it comes to speed, accuracy and efficiency. Blockchain technology allows patients and health officers to communicate in a decentralized and transparent manner and to share relevant health information securely. This helps doctors share their expertise with patients from anywhere in the world, and patients can receive advice from a variety of experts.
Medical Chain is a London-based company that has created a decentralized blockchain platform that allows secure storage and sharing of health records with different entities from the health sector, such as doctors, hospitals and pharmacists.
Medical Chain uses a dual blockchain infrastructure that uses Hyperledger Fabric and ERC-20-based on the blockchain of the Ethereum. All health records have symmetric key cryptography, ensuring security their secret.
The company has nearly 80 doctors from more than 40 medical facilities so far. Currently, this platform is used by more than 250 patients. The company has cooperated with Groves Medical Group, with more than 30,000 registered patients, and has also presented its project to the World Health Organization.
Block Pharma, a French startup, uses blockchain to prevent counterfeiting and other medical devices. Counterfeit drugs account for 10% to 30% of the drugs sold in developed countries. However, according to Block Pharma's research, nearly 800,000 people die each year from complications related to counterfeit drugs.
Block Pharma also creates an application that keeps track of where exactly the drugs are consumed and their origin. In addition, the implementation of smart algorithms enhances their technology, allowing them to find more counterfeit drugs as the usage of the application increases with its data.
Nebula Genomics is a blockchain platform that aims to store decentralized and less expensive genomes. The field of DNA sequences has grown dramatically over the years, and the demand for such services is as high as ever. By implementing the advantages of blockchain into this domain, Nebula will make it more efficient to obtain DNA genetic data at a reasonable price.
Ever since the DNA sequence was founded, the cost of genetic analysis has reached astronomical levels. Through the Nebula's peer-to-peer network, users interested in collecting large amounts of genetic data can do so efficiently and conveniently.
The ERC-20 Nebula token will be the currency in which genetic data can be purchased online. When the platform releases its mainnet, it will be able to decentralize the genetic data industry through the use of blockchain technology.
ID of Diamond
De Beers Group, the world's most famous diamond company, now has its own blockchain and operated, designed to set a digital record for every diamond registered on the platform. Given concerns over the origins of diamonds and ethics regarding their country of origin, coupled with the risk of stones being swapped for less valuable things along the line, blockchain is the best solution. Because each record is indelible, it will ensure the data for each stone exists as long as the diamond itself.
Real estate management and transactions
Ukraine holds the honour of becoming the first nation to use blockchain to facilitate a property deal. A property in Kiev was sold by famous cryptocurrency supporter and TechCrunch founder Michael Arrington. This agreement is enabled with the assistance of smart contracts on the Ethereum blockchain and is intended to be the first of many completed by Probi, a startup specializing in real estate transactions based on on the blockchain.
Public Utilities
Australia: In Australia's city of Fremantle, an ambitious project focused on distributed water and energy systems using blockchain technology. Solar panels are being used in the sunlit area to collect electricity, which is then used to heat water and provide energy and data recorded on the blockchain.
Chile: The Chilean National Energy Commission has started to use blockchain technology as a means of validating data regarding the country's energy use. Sensitive data will be stored on the blockchain as part of the South American nation's electrical infrastructure modernization and security initiative.
Taxes and electronic invoices
China: As one of the fastest-growing countries in the world in terms of technology development and application, it's no surprise that China became one of the first and most prominent countries in blockchain and everything that it provides. It has decided to use this technology to facilitate taxation and electronic invoicing in a project headed by Maokai Network in conjunction with the State Tax Department.
Insurance
American International Group Inc., in partnership with International Business Machines Corp, has completed a pilot of a multinational policy, called a smart contract, for Standard Chartered Bank's PLC and plans to manage complex international scope through blockchain.
Advertisement
USA: The New York interactive advertising exchange in partnership with Nasdaq is using blockchain to create an electronic market where brands, publishers and agencies can buy ads. The process is simple, albeit as secure as possible, using an open protocol on the Ethereum blockchain.
Smart cities
Taiwan: Smart cities are no longer science fiction. Taipei is trying to position itself as a city of the future with the help of Distributed Ledger Technology. They have announced a partnership with IOTA and they are working on creating tags with detecting light, temperature, humidity and pollution.
Oil industry
One of the leading companies in the commodity market, S&P Global Platts, is testing a blockchain solution that is being used to record oil storage data. Weekly inventory will be stored on the blockchain, reducing the need for manual data management and minimizing the possibility of human error.
Railway
In Russia, railway operator Novotrans is using blockchain technology with the goal of improving its operating speed. The company, one of the largest stock operators in the country, will use blockchain to record data related to repair requests, inventories and other issues related to their operations. The idea is that blockchain records will be more resistant to tampering and data corruption, etc.
Game / Entertainment
Ubisoft: One of the most influential companies in the gaming industry, Ubisoft, is working on how to deploy blockchain into its video games. Specifically, it focuses on the ownership and transfer of in-game items such as rewards and digital collectables. These have been successfully demonstrated in action using the Ethereum blockchain.
Energy distribution
One of the biggest challenges for the energy industry, companies in the habit of oversupply need to keep records unmistakable. Tracking energy distribution in real-time and ensuring efficient distribution across the supply chain requires a lot of data points and also requires close cooperation between all entities. Essentia is developing a pilot project with several major energy suppliers that will help them track the distribution of resources in real-time while maintaining data security at all times.
Car rental
Blockchain distributed ledger technology is suitable for registering any type of record in a secure and unchangeable way. One such use case is being developed by Essentia as the car rental industry. Major leasing companies will be able to use Essentia's blockchain protocol to store customer data, which is fully encrypted and can be shared on an authorized basis with stakeholders.
Newspapers
The standing is now a hot topic in journalism trade. One wrong move and years of hard work and research can go down the drain. Blockchain is a smart solution to the problem. Civil, a decentralized press market, in addition to clear blockchain benefits, provides an economic incentive model for quality news content, along with the ability to permanently store content, will still have accessible at any time.
Mobile payment
Cryptocurrencies with its underlying blockchain technology are being used to facilitate mobile payments in a variety of projects. One of the latest initiatives announced, scheduled to launch in the fall of 2018, will involve a consortium of Japanese banks. They will use Ripple's technology to enable instant mobile payments.