8 best PHP Frameworks for website programming (part 1)
8 best PHP Frameworks for website programming (part 1)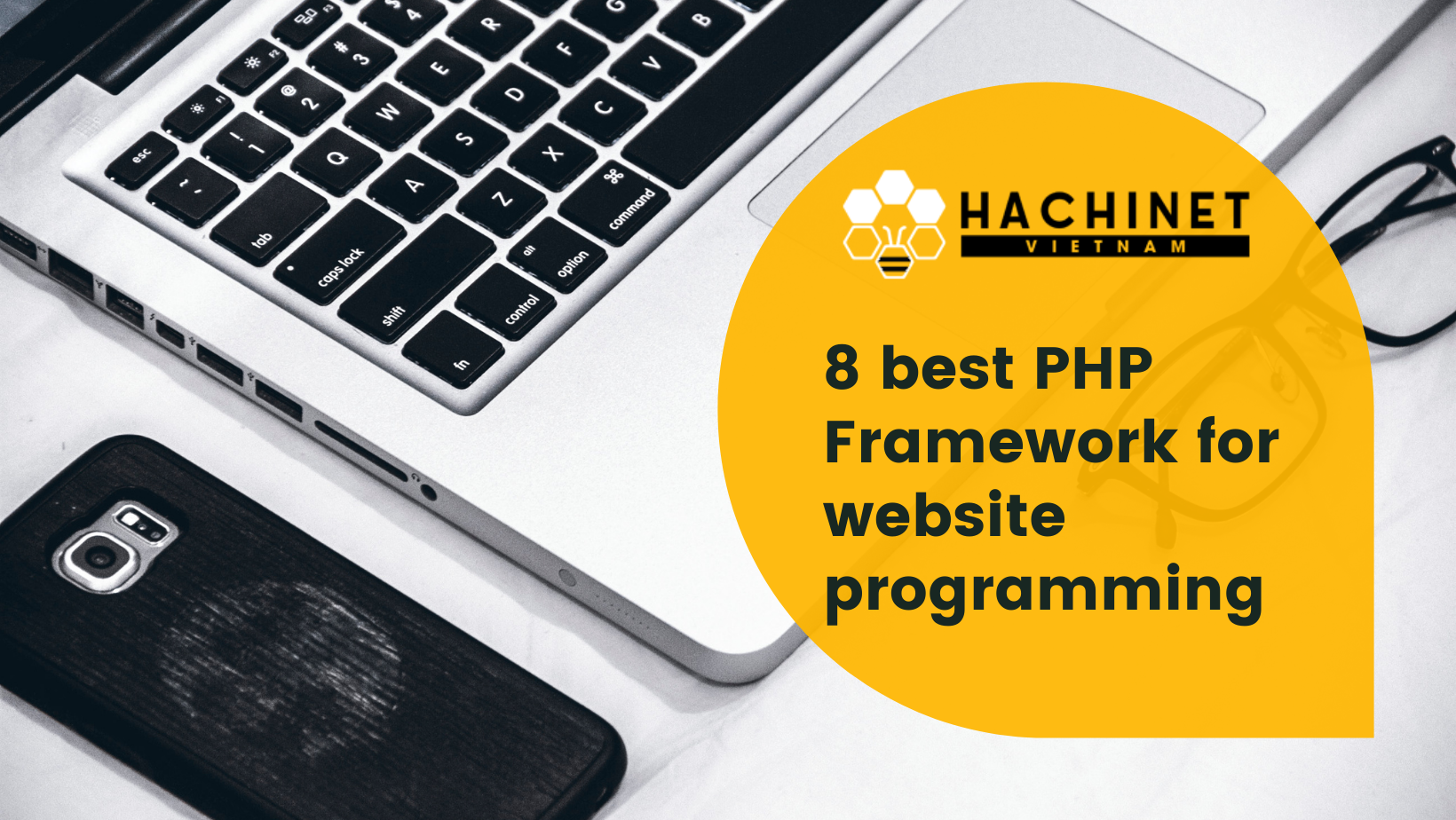 Developing a website or an app takes a lot of effort and time. In many circumstances, you need to recreate functions that have been used a thousand times before, which is as much time consuming as the redevelopment of an invention that already exists. Software frameworks can help you solve this problem by creating a platform to build your website.
In this article, Hachinet will help you select the best frameworks for website development.
There are 8 PHP frameworks you can choose.
Laravel
CodeIgniter
Symfony
Zend
Phalcon
CakePHP
Yii
FuelPHP
We will show each framework's pros and cons, its engine techniques, and other relevant and vital information. Let's start.
What is the PHP framework? And why do you need them?
Terminology "framework" refers to the libraries of files containing basic functions and are developed and distributed by website programming companies. The framework aims to provide a built-in system helping to program easier thanks to pre-functions and features. It's a system containing several functions without coding common code used many times when programming.
Imagine that you are preparing to make a new dish. You need to buy many ingredients and prepare the recipe. However, it would be best to have all the basic tools like pots, pans, knives, and cutting boards. In your house, these tools are already available without buying a new one. That means your home already has a foundation of "frameworks" to help you get ready for "boiling water". The PHP framework is similar, too, you will be able to start programming without every purchase of tools.
Suppose you want to develop a new PHP app. Firstly you should choose one framework that can contain every function you need to use. Luckily, you have several good choices. Most frameworks have their particularities and their strengths and weaknesses.
8 best PHP Frameworks for website programming
If you have used a framework before, you will know each tool is different from each others. But we will provide the most information for you to choose from. Those following frameworks are free and open-source if you already have web hosting to test. Let's start.
1. Laravel
When everyone talks about PHP frameworks, the most famous name, they will first think about Laravel. This special framework can be appealing thanks to its delicate structure, easy to learn and very comfortable use.
With Laravel, you can quickly start your website project. It's also easily quick to access functions such as user authentication, session management and caching. In particular, Lavarel has entire functions that you need to create a modern PHP app.
If you like engine elements, Lavarel also can be your favoured platform. Lavarel's source codes gradually focus on performance and can expand this framework by several add-ons.
Lavarel also integrates smoothly with third-party libraries such as Amazon Web Services (AWS). This is easy for you to build extremely scalable apps. For time-consuming performance, you can batch run in the background sequentially, which will improve performance even more.
Main functions:
The framework is measured to have the most elegant and beautiful syntax.

Expanding Lavarel's functions by add-ons.

Using pre-functions to manage routing, users, caching, etc.

Laravel integration with third-party libraries like AWS.

Run sequential tasks in the background to improve performance.
Finally, Lavarel has an energetic community which means you can support and easily find the tutorials. If this is the first time you have used a framework, this is the best choice.
2. CodeIgniter
CodeIgniter is a PHP framework using Model View Controller architecture (MVC). CodeIgniter uses different components to manage different tasks. Programmers also prefer this approach because it helps create a large scalable application with little editing.
If you are new to the PHP framework, CodeIgniter might be a wise choice, as it is easier to learn and easier to get used to than other platforms. Furthermore, the platform has a very detailed and complete set of documentation. You will have no problem getting started. CodeIgniter also performs well, making it the perfect platform for making lightweight applications run on most servers.
Main functions:
This platform is light and can build the app with performance first insight.

It can start thanks to its simplicity and amazing document quickly.

Create scalable apps thanks to MVC architecture.
There are many strengths when using Codeigniter. However, even though it's one of the best frameworks, it still has weaknesses. For example, its versions aren't published occasionally, so CodeIgniter may not be a good choice if you need the latest highest security standards.
3. Symfony
If there is a contest between the best PHP frameworks, Symfony always competes fairly with Codelgniter and Lavarel for its common. When you find more about this framework, you may understand why.
Besides its pleasant name, Symfony also is flexible. It has a built-in functions system to choose the necessary PHP or use the entire PHP framework.
To ensure this app runs smoothly, the frameworks also have built-in function testing. In our experience, applications built on Symfony are not necessarily the best performance and are harder to learn than the above two frameworks, but are quite flexible.
Main functions:
Thanks to its flexibility, you can set up independent components.

Having a function testing feature.

Intensive study materials are carefully invested.
Symfony strengthens in modularizing components. You can use the framework's components instead of the entire library. If you don't need to use too many features, this PHP framework is the best.
We, "Hachinet Software," are Vietnam-based software services with dedicated, dynamic, enthusiastic teams who always have made efforts to please customers' and partners' satisfaction. We specialize in the followings:
Web application (.NET, JAVA, PHP, etc.)

Framework (ASP, MVC, AngularJS, Angular6, Node JS, Vue JS)

Mobile application: IOS (Swift, Object C), Android (Kotlin, Android)

System applications (Cobol, ERP, etc.),

New Technology (Blockchain, etc.).
If you are interested in our service or looking for an IT outsourcing partner in Vietnam, do not hesitate to contact us at contact@hachinet.com.