What is Django? Django's features, pros and cons
Select a suitable framework for website development isn't easy. For many companies and independent projects, Django Framework is a suitable choice since it's one of the most powerful and common tools for website development.  Let's find out with Hachinet to comprehend Django and why several web developers use it widely.
What is Django? Django's features, pros and cons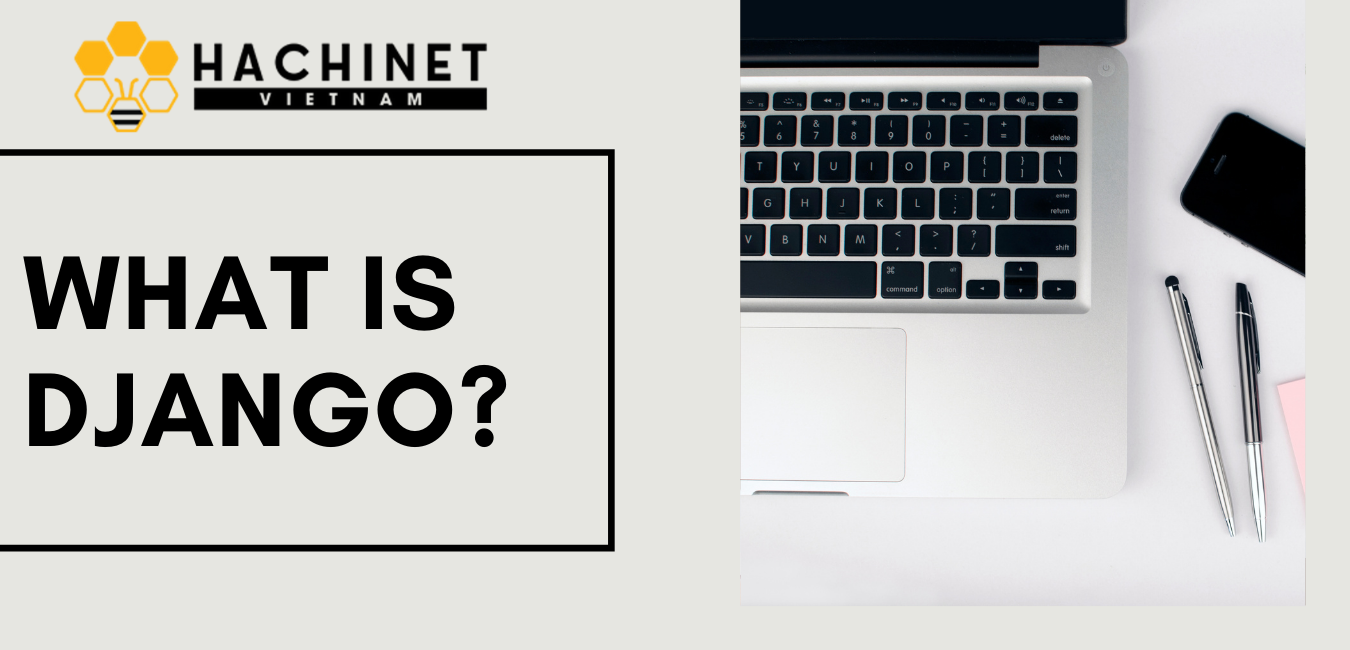 Select a suitable framework for website development isn't easy. For many companies and independent projects, Django Framework is a suitable choice since it's one of the most powerful and common tools for website development.
Let's find out with Hachinet to comprehend Django and why several web developers use it widely.
1. What is Django?
---
To answer the question of what Django is, we need to understand web development and framework first. Web development is a complicated process that requires developers to perform several tasks like coding, design, and testing.
As for the coding stage, programmers have to take care of the syntax, declarations, statements, exceptions, etc.
To solve these annoyances, people have created frameworks to make software and website development easier.
Frameworks like Django allow developers to control all (or a part) of the website development process through a single platform, thereby saving you time and money.
Django is a high-level framework written in Python, designed to meet the needs of developing secure and easy-to-maintain websites.
Since this framework is written by experienced developers, it's capable of handling most of the complex parts of web development.
Thus, you can focus on writing an app without having to stop to test. Django is free and open-source.
This framework has a large community and is well documented.
2. Django's features
---
2.1. High completion
Django provides almost everything that a developer may want to develop the web the way they desire.
All parts of the framework work seamlessly together, follow a consistent design principle, and have documentation for your reference.
Thanks to that, you can both develop a web in your own style and save time.
2.2. Flexibility
Django can build almost any type of website - from content management systems (like wikis) to social media and news sites.
It can work with external frameworks and deliver content in almost any format (including HTML, RSS feeds, JSON, XML, etc.).
The framework also provides different options for most of the functionality (like template engine, popular database, etc.).
2.3. Security
Django helps developers avoid many common security mistakes by providing a self-protecting framework.
For example, Django provides a secure solution for managing user accounts and passwords, avoiding common mistakes like putting session information in a vulnerable place like cookies ( cookies only contains the key but the actual data is stored in the database) or directly stores the password rather than storing the password hash.
Django also protects websites from vulnerabilities of various types of cyberattacks such as SQL injection attacks, Cross-site Scripting, cross-site request forgery, and clickjacking.
2.4. Extension
Django uses its own component architecture, so you can extend by adding hardware to the levels (caching server, database server, or application server). And Instagram is an example.
2.5. Maintainability
Django's code is written using principles and design patterns that encourage the creation of maintainable and reusable code.
It also promotes the grouping of related functions into reusable "apps", thereby making the website more maintainable.
3. Why should we use Django?
---
3.1. Django's pros
3.1.1. Easy and fast
One of Django's tasks is to simplify tasks for developers, which requires:
Rapid development principle: Developers can perform iterations at once instead of having to start from scratch.

DRY principle (Don't Repeat Yourself): Developers can reuse existing code and focus on it.
Unnecessary duplicate code will be removed by this framework, thereby reducing the amount of code, which helps you save more time.
3.1.2. Security
Security is also Django's top priority. It is one of the frameworks with the best security system available today.
Thanks to that system, developers can avoid common security problems such as Clickjacking; Cross-site scripting; Cross-site request forgery; SQL injection.
The framework also regularly releases security patches. Django is considered the leading framework in responding to security vulnerabilities and reporting other frameworks.
3.1.3. Suitable with every website project
For Django, you can tackle projects of any size (from simple websites to high-load web applications).
Django has many extra features and is extensible. You can create apps that handle high traffic or large volumes of information through Django.

Django is cross-platform. You can run the project on Mac, Linux, or PC.

Django works with most major databases and allows to use of different databases depending on the project. You can even use multiple databases simultaneously.
3.1.4. Community and finished setup
Django sets up pretty well. This has been proven by time and several people using this framework.
It has a big community, which is accessible through many forums, channels, and specialized websites.
You will easily get help with Django-related issues and easily find a developer to run the project for your company (if you intend to run the project on Django).
3.1.5. Detailed and constantly updated documentation
As a result, you can fully adapt quickly to the changes of this framework (if any).
Related issues will always be resolved as soon as they arise. The software is constantly updated and new packages are released for you to work with Django more and more smoothly.
3.2. Django's cons
Django can cause some problems when using to develop small apps and websites.
Django will not notify when an error occurs in the template so you won't detect the error and take a long time to find it.

Django is a strong framework so it makes developer routing difficult.

Django doesn't have the ability to make different requests simultaneously because it doesn't empower operations to handle multiple requests at the same time, so developers will have to consider other methods.
4. Django's App Calculation
---
The Django framework was originally created to provide web applications for a newspaper producer – Lawrence Journal-World.
It can handle projects with large volumes of text, media files, and traffic (or anything like an electronic newspaper).
Django is also used to build E-commerce websites and applications that operate health, finance, shipping, booking, or social media sites, etc.
Here are some kinds of projects that you can develop using this framework:
The main platform: Functional analysis and calculation of approximate results based on individual data, risk tolerance, or validation of goal achievement.

An integrated CRM system is to edit for internal data.

B2B CRM system is to handle communication between businesses.

The platform supports communication between two parties, such as between a business and a user.

Android and iOS mobile apps support web apps.

Real estate property rating system.

System management documents.

The platform handles legal matters: like mortgage illustrative conditions or rental status.

The project is implemented across multiple frameworks.
Diango can also be used to create unique characteristics such as.
Send mail message system for users.

Algorithm-based generator.

Instrument analysis data.

Invest in interface management.

Admin Dashboard.

Photo-based verification system.
And many other features that facilitate the development of CRM and B2B platforms, online marketplaces, booking systems, etc.
5. Django's MTV models
---
In a data-driven web page, a web application receives the HTTP request from the browser.
Then they will figure out what to do based on the URL and the information in the data POST or data GET.
Depending on what is requested, it can read or write information from the database or perform other tasks necessary to satisfy the request.
Then the app returns a response to the web browser (usually automatically creating an HTML page for the browser to display by inserting the retrieved data in place of the HTML template).
Django web apps often group the code that handles separate steps into separate files:
This model is Django use and the set name is "Model View Template (MVT)".
In its documentation, Django introduces that they use the MVC (Model View Control) model. The truth is that Django has followed the MVC model but developed in a very different direction.
Django considers the framework as the control. And in fact, big programming members only work with View, Model, Template, and View.
Therefore we have the name Model View Template of Django, this model includes:
View (V): View is a request function process, this function takes HTTP requests and returns HTTP responses. View the access data needed to respond to requests through the models and format permissions of the response to the template.

Model (M): Model is the Python object that has the task of the data structure of the application and provides a mechanism to manage (add, edit, change, delete) and query records in the database.

Template (T): A template is a file text that sets up the structure or layout of a file (Such as an HTML page). Together with the placeholder, it is used to implement content.
6. Popular websites are built with Django Framework
---
Here are some popular websites using Django.
Instagram: A very popular social network. We have to deal with a constant volume of data and user updates. Django enables functionality to help web apps work together, add new features, and fix problems quickly.

Spotify: A music application that contains a blocks big file of music and information. Technically, Spotify uses Python in conjunction with the Django framework.

Pinterest: This platform is considered an ideal paradise. It is a unique image gallery with over 250 million monthly active users.

Reddit: this may be quite a remote site for Vietnamese people, but it is the third-largest website in the world after Facebook. It has a huge user base and contains many discussion posts. This platform uses Django because this framework is the bigrender volume.
Moreover, those using Django also are Youtube, The Washington Post, Dropbox, Mozilla, NASA, etc.
7. Required knowledge before learning Django
---
To learn Django, you need to know.
Python language or at least understand and know the basic usage of the language's syntax. Some key points need to have such as how to enter the first line of Python, how to use functions or pass arguments, set default values.

Add package or external module into code.

Use regular expressions (regex).

RestAPI and JSON-related knowledge.
If you've already known those above, now you should find out more.
How to create models and forms.

How to create RestAPI.

Static files by level.
And many other Django's functions and activities.
We, "Hachinet Software", are Vietnam-based software services with dedicated, dynamic, enthusiastic teams who always have made efforts to please customers' and partners' satisfaction. We specialize in the following:
Framework (ASP, MVC, AngularJS, Angular6, Node JS, Vue JS)
Mobile application: IOS (Swift, Object C), Android (Kotlin, Android)
System applications (Cobol, ERP, etc.),
New Technology (Blockchain, etc.).
If you are considering offshore development, please feel free to contact us.
※Here is our contact information.
Account Manager: Quan (Japanese/English available)
Phone number: (+84) 2462 900 388
Email: contact@hachinet.com
Please feel free to contact us for consultation/application by phone.