Symfony - a brief introduction
Symfony - a brief introduction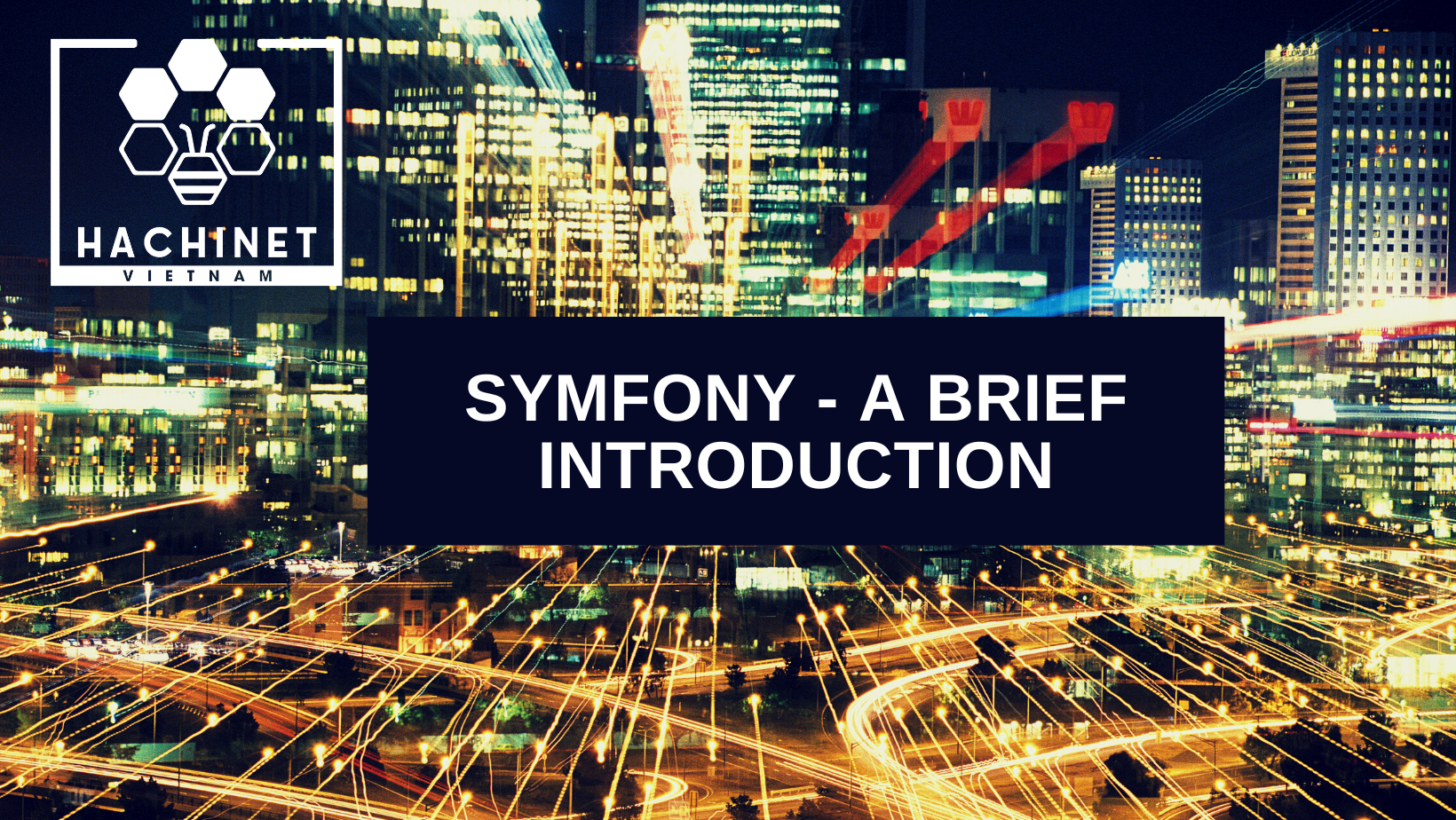 What is Symfony? A question is for programmers and the online community. To understand more about the importance and meaning of this issue, let's follow the article below with Hachinet.
1. What is Symfony?
1.1. Definition
Symfony is sponsored by SensioLabs, a French professional software developer and service provider. The first name was Sensio Framework. Later it's known as Symfony when was decided to launch as an open-source framework (renamed Symfony from version 2 onwards), to match the hostname prefix existing title and class name.

Symfony is an open-source framework that helps develop custom-designed web applications using the PHP5 programming language. The projects developed by Symfony have created a large community of developers, flexibility, freedom, cost savings, and assurance of development.
Currently, Symfony2 is one of the latest versions of the content system written in PHP with its collaborators such as Drupal, phpBB, ezPublish. Through Symfony, customers can achieve their desired goals such as creating a flexible source code, compatible with Varnish, HTTP accelerator for easy upgrade, maintenance, optimization of work performance, allowing users to unleash, freely create what they want, etc.
Symfony can speed up the creation and maintenance of web apps, replacing repetitive coding tasks. It also can build powerful apps in an enterprise context and give developers full control over the configuration: from the directory structure to foreign libraries. Most of everything can be customized.
To keep with enterprise development principles, Symfony is packed with additional tools to help developers test, debug, and document projects. Symfony has low overhead used with a bytecode cache.
Symfony manages releases through a time-based model. A new Symfony release is released every six months, one in May and one in November. This release process has been adopted since Symfony 2.2 and all these "rules" are strictly followed since Symfony 2.4.
1.2. Objects
Symfony is one of the ideal ways to harness the full potential of PHP. As we have seen, at present, nearly 80% of large websites are programmed in PHP, even big companies like Wikipedia or Facebook are very popular, etc.
Symfony also has brought users outstanding features that can't be found anywhere else. Thereby increase competitiveness, development, and become the first choice, reliability for large computer companies such as TF1, M6WEB, etc. Here are some cons that Symfony brings to users.
Symfony is an effective solution for businesses that are implementing or maintaining large or medium-sized projects because of its reliable structure.
Symfony is suitable for high-traffic websites by projects developed using the Symfony framework, Sutunam ensures to bring to customers reliable, efficient, and always innovative projects.
1.3. Project structure
Symfony is organized code according to the MVC design pattern like the vast majority of other PHP frameworks. This model divides the application into 3 different pieces of information, Controller, Model, and View. Each part will have its tasks.
Model: Includes classes that describe the application's business, the object working on the application, and the database.
View: Contains what can perform human interaction. One of these factors is the template engine
Controller: Responsible for handling input requests, receiving input from the user through the view, then processing through the model, and finally passing data to the view to display the results.
Therefore, we can simply understand that the Controller is the bridge connecting the View and the Model.
1.4. Working structure
To more comprehend how to install and configure Symfony, we need to know some basic structures.
ORM: Symfony is essentially an object-oriented framework. Instead of using SQL statements, when you want to perform operations in Symfony, you can completely use objects. The database information on Symfony will be transformed into an object model through the ORM tool, which is an extremely useful mechanism. Thereby creating the ability to map the database to an object-oriented programming language.
Schema: To perform the database mapping process, the ORM needs some information to proceed with creating the corresponding class, from which you can use the ORM to generate the necessary SQL statements through the description of the database in file Schema.yml
Routing: Because of the importance of URLs in Symfony, there is a separate routing framework to manage them. When a request occurs, the URL will be converted to an Internal URI by routing analysis and conversion.
2. The difference between Symfony and Laravel
2.1. Programming language
Symfony: You can edit the syntax easily by using the popular PHP language to create other programming languages like Java or C#.
2.2. Database access
Symfony must use Doctrine when accessing. Every time you do this step, you have to create a rather complicated repository function.
Laravel uses Eloquent to access the database. Simultaneously, the data transmission through Laravel is more flexible and faster. Users will not need to be advanced, but just some basic knowledge of SQL and they can search the database easily and simply.
2.3. Template engine
Symphony uses the template engine and Twig. Since the code looks nice with a large community, there are many keywords added with different extensions so Symfony's Twig has many advantages over Blade.
Meanwhile, Laravel uses Blade. With any defined functions, you can use it on the template without worrying.
2.4. Third-party software
There are many large teams in the developer community who are researching and creating packages like Sonata, Liip Imagine, FOS, KnpLabs, etc. These third-party packages will help Symfony develop faster than compared to other packages, which makes Symfony more superior.
Besides, Symfony and Laravel also differ in Middleware, Cache, performance and debugging, and development tools. Depending on the essential needs, users want to proceed to choose accordingly
We, "Hachinet Software", are Vietnam-based software services with dedicated, dynamic, enthusiastic teams who always have made efforts to please customers' and partners' satisfaction. We specialize in the followings:
Framework (ASP, MVC, AngularJS, Angular6, Node JS, Vue JS)
Mobile application: IOS (Swift, Object C), Android (Kotlin, Android)
System applications (Cobol, ERP, etc.),
New Technology (Blockchain, etc.).
If you are considering offshore development, please feel free to contact us.
Here is our contact information.
Account Manager: Quan (Japanese/English available)
Phone number: (+84) 2462 900 388
Email: contact@hachinet.com